Funnel cakes with poached pears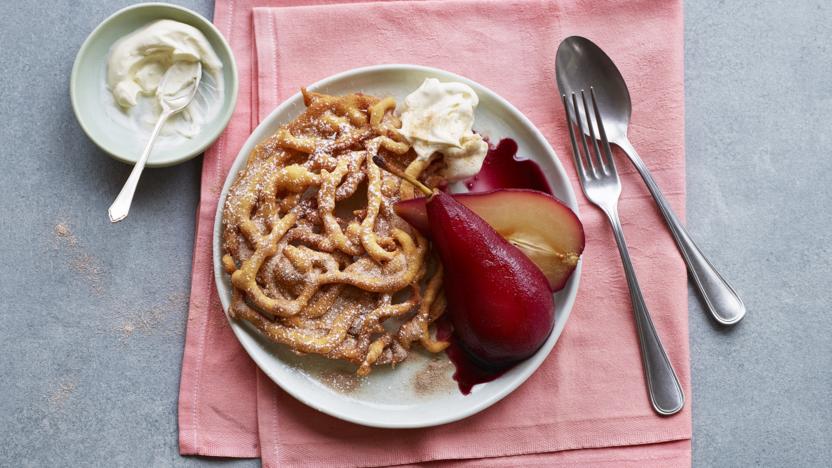 Funnel cakes are an American funfair staple – a bit like churros or doughnuts, the batter is piped directly into hot oil in swirls. Serve with red wine poached pears and sweetened cream for an elegant dessert, or eat them simply dusted in cinnamon sugar.
Ingredients
For the pears
For the funnel cakes
For the cinnamon sugar
To serve
Method
For the pears, carefully remove the core with the tip of a knife and discard, keeping the pears whole.

Put the pears in a small saucepan with the wine, sugar and just enough water to cover. Add the spices and ginger and bring to a gentle simmer. Cook for 15–20 minutes, or until tender, turning occasionally.

While the pears are cooking, make the funnel cake batter. Whisk together the milk, egg and vanilla extract. Put the flour, sugar, baking powder and salt in a large bowl and mix well. Slowly add the milk mixture, whisking with a balloon whisk until smooth. Set aside.

Heat the oil in a deep-fat fryer or heavy-based saucepan to 170C – the saucepan will need to have enough oil to fill halfway up the sides. (CAUTION: Do not leave hot oil unattended).

Mix the caster sugar and cinnamon in a small bowl and set aside.

When the oil is at temperature, spoon the batter into a large piping bag fitted with an 8mm plain nozzle (keep the nozzle end of the piping bag folded, so the batter doesn't ooze out).

Very carefully pipe the batter directly into the hot oil, moving the piping bag in circles, to make a loose nest. Take care to avoid splashes of hot oil. Fold the piping nozzle up when half the batter is used and put to one side. Cook the funnel cake for 4–5 minutes, or until golden brown and crisp, turning with tongs halfway through the cooking time. (CAUTION: do not allow the oil to get too hot. Protect yourself from splashes of hot oil and keep your face away from the pan.)

Transfer the funnel cake to a dessert plate and sprinkle with half the cinnamon sugar. Make the second funnel cake in exactly the same way.

Meanwhile, take two ladles of the poaching wine and pour into a small saucepan. Bring to the boil and boil vigorously for a few minutes, or until thickened and syrupy. Drain the pears and cut in half.

Place the pears on the funnel cakes and drizzle with the spiced syrup. Serve with the sweetened cream.
Recipe Tips
Keep the leftover red wine poaching liquid for cooking frozen berries as a quick midweek dessert.