Funfetti strawberry birthday cake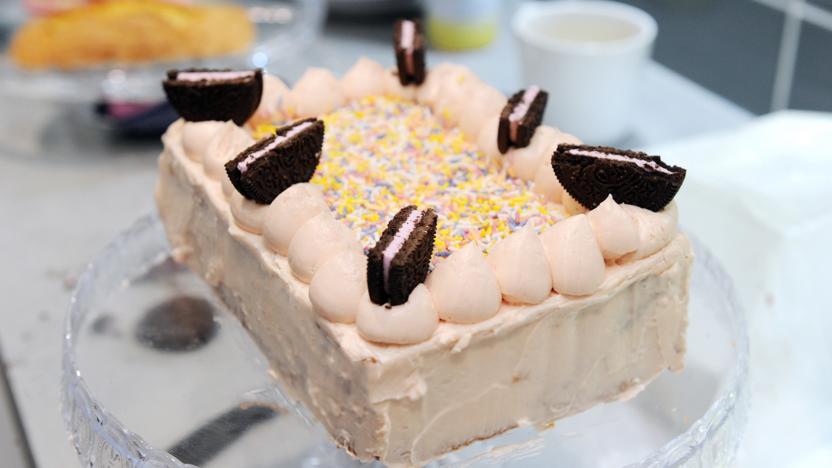 This cake is strawberry-tastic and loads of fun. Perfect for a kids' party!
Ingredients
For the cake
For the strawberry Swiss meringue buttercream
For the decoration
75g/2½oz rainbow-coloured sprinkles
3 strawberry-filled sandwich biscuits, cut in half
Method
Preheat the oven to 190C/170C Fan/Gas 5. Grease and line a 14x20cm/5½x8in cake tin or 900g/2lb loaf tin.

For the cake, put the butter, sugar, eggs and flour into a large mixing bowl. Using an electric hand whisk, beat for 3 minutes on medium speed until smooth and shiny.

Spoon the batter into the prepared tin. Level off the top, then bake on the middle shelf for 45–50 minutes, or until a skewer inserted comes out clean and the cake is golden-brown and well risen. Leave to cool for 10 minutes in the tin, then turn out to cool completely on a wire rack.

Meanwhile, for the strawberry Swiss meringue buttercream, put the egg whites, sugar and salt into a heatproof bowl. Place over a pan of gently simmering water (do not let the bottom of the bowl touch the water).

Using an electric hand whisk, mix on high speed for 5 minutes, or until glossy and thick. Remove from the heat and beat for 2 minutes, or until cooled to room temperature.

Now quickly add the butter a cube at a time until you have used up all of it. The mixture may look quite loose and split, but don't be alarmed – keep beating until it has cooled, thickened and come together. Beat in the strawberry milkshake powder until well incorporated.

Once the cake has cooled completely, trim the top and sides if necessary so the rectangle is neat and flat. Turn the cake upside down onto a cake board or stand.

Put half the buttercream in a piping bag with a large round tip nozzle attached and set aside. With the remaining buttercream cover the sides of the cake using an offset spatula.

Pipe tall peaks around the top edge of the cake. Scatter the sprinkles over the centre. Decorate the tops of some of the icing peaks with halved sandwich biscuits .