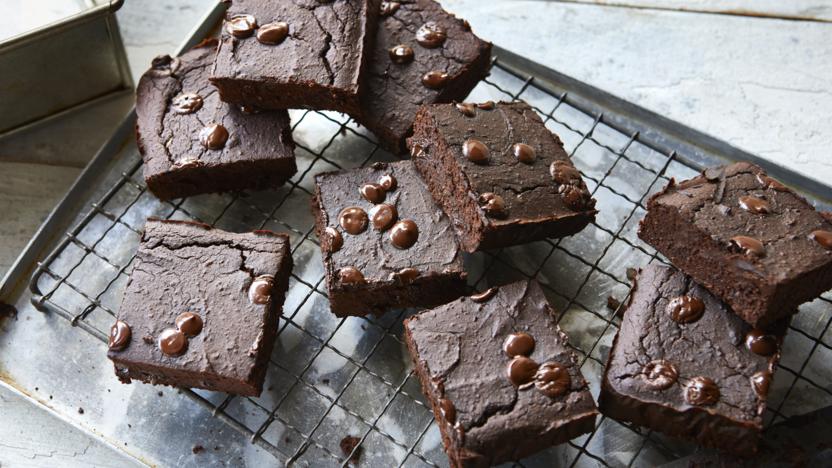 These lower-fat black bean brownies taste totally lush and are worth every calorie! Just keep a close eye on them in the oven, as they can become dry if overcooked. Who says you can't eat cake on a diet?

Each brownie provide 209 kcal, 9g protein, 14g carbohydrate, 12g fat, 4g fibre. For this recipe you will need a 20cm/8in square cake tin.
Method
Preheat the oven to 180C/160C Fan/Gas 4. Line a 20cm/8in square baking tin with baking paper.

Put the black beans and vegetable spread into a food processor and blend until smooth. Add the eggs and blend again briefly, until well combined. Transfer the mixture to a large bowl.

Add the cocoa powder, ground almonds, vanilla extract, maple syrup, coffee granules, sweetener and half of the chocolate chips. Whisk to combine evenly.

Pour the mixture into the lined tin and sprinkle the remaining chocolate chips over the surface. Bake on the middle shelf of the oven for 18–20 minutes, or until just firm to the touch.

Remove from the oven and leave to cool slightly before carefully lifting the brownie out of the tin and cutting it into squares. Enjoy while still warm, sprinkled with a little sifted cocoa.
Recipe Tips
To freeze, allow to cool completely then wrap the brownie squares in foil and transfer to a rigid container. Defrost at room temperature.
This recipe is from...
Recipes from this episode