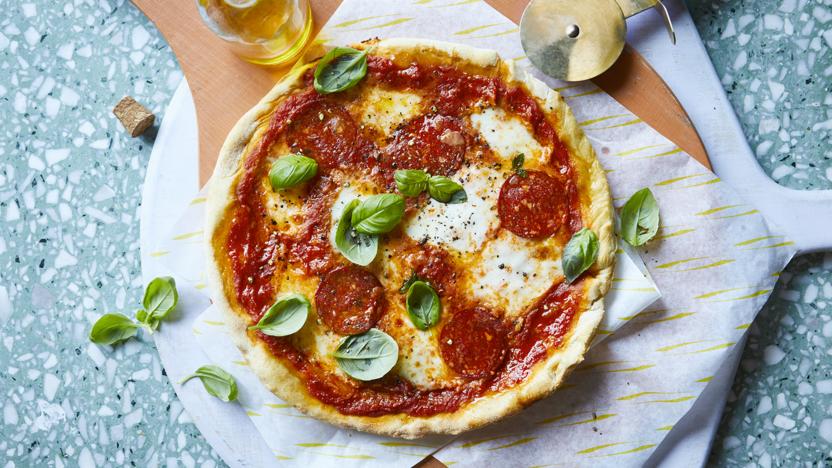 No yeast, just a quick knead – this pizza is a flash in the pan. Top with classic flavours of tomato, mozzarella, 'salami' and basil.
Ingredients
For the dough
For the topping
Method
To make the dough, mix the flour with the baking powder and salt. Pour the olive oil and 100ml/3½fl oz water into a jug. Gradually add the water and oil to the flour, stirring until you have a dough. Knead for 1 minute, until the dough is soft and pliable. Shape into a ball, cover with a damp tea towel and leave to rest for 5 minutes.

Preheat a large frying pan until very hot and heat the grill to high.

Grate the garlic into the passata and stir through the oregano. Season with salt and pepper to taste.

On a well-floured surface, roll and stretch the dough into a large circle with thicker edges. Place in the hot frying pan. Cook until the base has begun to lightly brown and the dough is slightly dry on top.

Top with the tomato sauce, salami and mozzarella. Transfer to the hot grill and cook until the cheese melts and the crust browns – watch carefully at this stage to ensure the crust doesn't burn.

Transfer to a serving plate and garnish with basil leaves and a drizzle of olive oil.
This recipe is from...
Hungry for It
4. Episode 4
Recipes from this episode