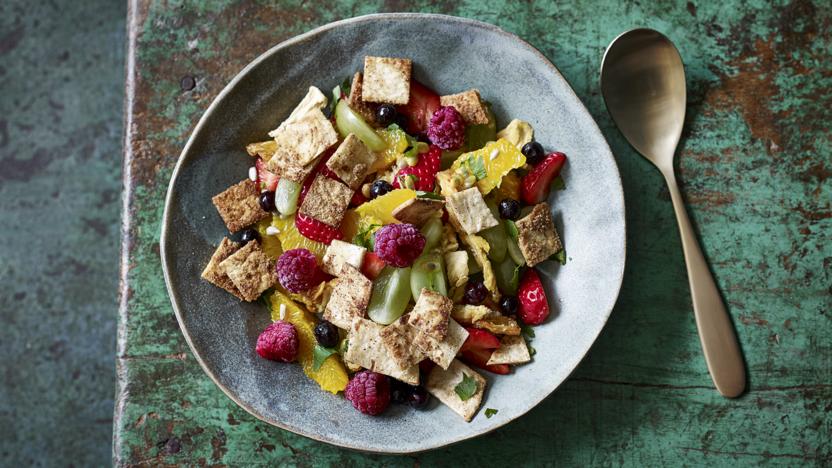 Nadiya's take on fattoush, a Middle Eastern salad, known for the crisp, toasted bits of bread that adorn the top. This is a breakfast version, full of fresh, frozen and dried fruits and seeds, with toasted cinnamon tortillas for the crispy bread topping.


Ingredients
For the crispy tortillas
For the fruit salad
Method
Begin by making the crispy tortillas. Preheat the oven to 200C/180C Fan/Gas 6. Put the tortilla pieces in a large baking tray in a single layer. Pour over the melted butter, then, using your hands, toss the tortillas around so that each piece is coated.

Sprinkle over the sugar and cinnamon and make sure that everything is coated well. Sprinkle over the salt.

Transfer the tortillas to the oven and bake for 10 minutes, keeping a close eye so that they do not burn.

Halfway through the cooking time, remove the tray and turn the pieces around, then put back into the oven for another 5 minutes. You will know they are ready when they make a crunchy sound when dropped onto the tray. If you think they need a little longer, leave them for an extra few minutes, but make sure you still keep an eye on them.

Once the tortillas are crisp, leave them on the tray to cool and dry out a little bit more while you put the salad together.

Put all the salad ingredients into a large bowl and mix together. This can be done just before serving, so that the frozen fruit stays frozen.

Serve in individual bowls and sprinkle the crispy tortillas over the top.
Recipe Tips
Use scissors to cut the dried pineapple in this recipe – it's much easier than using a knife.
This recipe is from...
Recipes from this episode