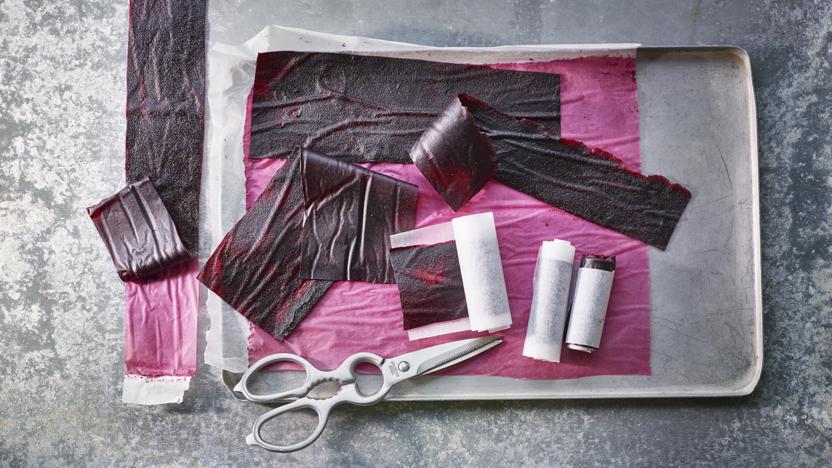 Fruit leathers are an excellent way of using up an excess of fruit and any seeds, stones, peels and cores are simply sieved out after the fruit has been softened during cooking. They are best made with a proportion of cooking apples to give the watery soft fruits and berries some density and body.
Method
Preheat the oven to a very low setting, approximately 110C/90C Fan/Gas ¼. Line a 30x40cm/12x16in baking tray (or two smaller trays) with a silicone baking sheet or lightly oiled baking paper.

Put the blackberries and apples in a large saucepan with about 100ml/3½fl oz water, or just enough to cover the base of the pan and prevent the fruit from sticking. Cook gently until soft and the fruit has completely broken down to a pulp. Tip the mixture into a sieve placed over a bowl and rub through with the back of a spoon. You should end up with approximately 700–750g/1lb 9oz–1lb 10oz fruit purée. Add the sugar, if using, to taste and mix well to combine.

Spoon onto the prepared baking tray, spreading the mixture out carefully with the back of a spoon to cover the sheet in an even layer. Place in the oven and leave for approximately 6–7 hours, until the sheet is completely dry and peels off the paper easily. The timing will depend on the thickness of the leather and how moist the purée is.

To store the leather, cut a piece of baking paper that is a little larger than the leather. Place the leather on it and roll it up tightly from the long side. Twist the ends to seal and keep in an airtight container. Providing the leather is kept dry, it will keep for months or even years. Cut into 5cm/2in wide strips when ready to eat.
Recipe Tips
As fruit leathers have such a long cooking time, it is worth making several at a time to roll up and store away. Light to carry and healthy to eat, they are great to pop into lunchboxes for long walks and outdoor activities.