Fried chicken with macaroni cheese
If you're going to indulge in fried chicken, you might as well go all out and have it with macaroni cheese!



Ingredients
For the fried chicken
For the seasoning
For the macaroni cheese
To serve
Method
To make the fried chicken, mix the soy, crème fraiche, buttermilk, garlic and mustard together in a bowl. Add the chicken and mix well to coat. Cover and place in the fridge for 8 hours.

Meanwhile, mix all the seasoning ingredients together in a bowl and set aside.

To make the macaroni cheese, bring a pan of salted water to the boil and cook the macaroni according to packet instructions. Drain and set aside.

Bring the chicken stock to the boil in a saucepan and reduce until 100ml/3½fl oz is left. Add the cream and bring to the boil, then reduce the heat and add the macaroni, béchamel, mustard and two thirds of the cheeses. Mix well to combine, then transfer to a baking dish.

Fill a deep-fat fryer or a large, deep, heavy-bottomed pan two-thirds full with the oil. Heat to 180C (a cube of bread should turn brown in one minute when dropped in.) CAUTION: Hot oil can be dangerous. Do not leave unattended.

Dip the chicken in the seasoning and coat well, then fry for around 8 minutes, or until golden-brown and cooked through. Drain on kitchen paper.

Heat the grill to medium heat, sprinkle the remaining cheese and thyme over the macaroni cheese and grill for around 10 minutes, or until bubbling and golden-brown.

Serve the fried chicken alongside the macaroni cheese and garnish with the cresses.
This recipe is from...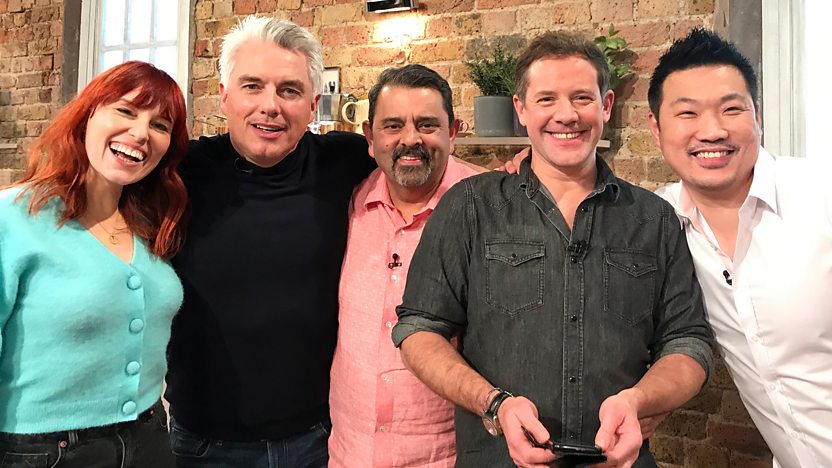 Saturday Kitchen
15/02/2020