Fried aubergine with fennel yoghurt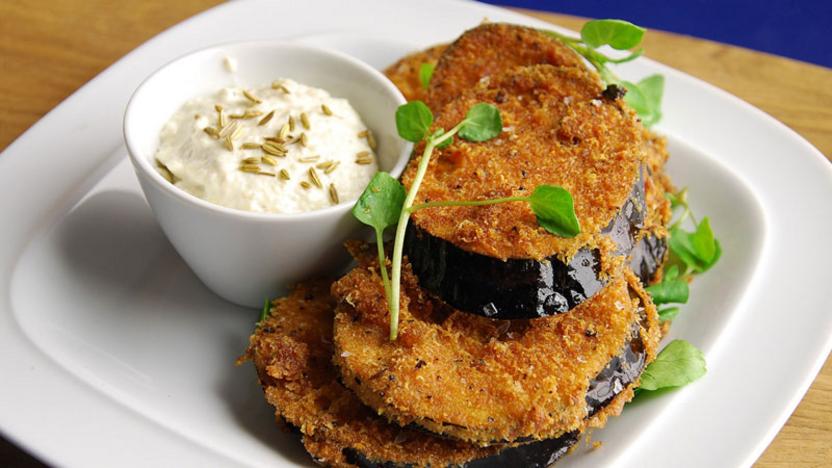 Preparation time
less than 30 mins
Cooking time
30 mins to 1 hour
Crunchy and moreish, these aubergine cakes make a fine vegetarian starter. Or cut them into chip shapes for an informal snack.
Ingredients
For the fennel yoghurt
Method
Preheat the oven to 180C/350F/Gas 4.

For the fennel yoghurt, heat the oil in an ovenproof casserole over a medium heat. Add the garlic and fennel and fry for 4-5 minutes, or until golden-brown and slightly softened.

Add the lemon juice to the mixture, stir well, then cover and transfer to the oven. Roast for 15-20 minutes, or until the fennel is tender. Set aside to cool.

For the aubergine chips, mix together the breadcrumbs, percorino, chilli flakes, salt and pepper in a shallow bowl.

Place the plain flour onto a shallow plate and beat the eggs in a shallow bowl.

Roll the aubergine sticks in the flour, then dip into the egg and finally coat in the breadcrumb mixture.

Heat the oil in a deep-fat fryer to 150C/300F. Alternatively, heat the oil in a deep heavy-based frying pan until a breadcrumb sizzles and turns golden-brown when dropped into it. (CAUTION: hot oil can be dangerous. Do not leave unattended.)

Transfer the coated aubergine sticks to the hot oil to deep-fry for about six minutes, or until golden-brown.

Remove from the oil with a slotted spoon and drain on kitchen paper.

Combine the roasted fennel, roasted garlic and any roasting juices with the fennel seeds in a blender. You may need to add some more olive oil or lemon juice, to taste. Blend until the mixture is a smooth purée.

Pass the puréed fennel through a sieve and stir into the Greek yoghurt.

Serve the fennel yoghurt in a bowl and with the fried aubergine sticks and watercress on the side.