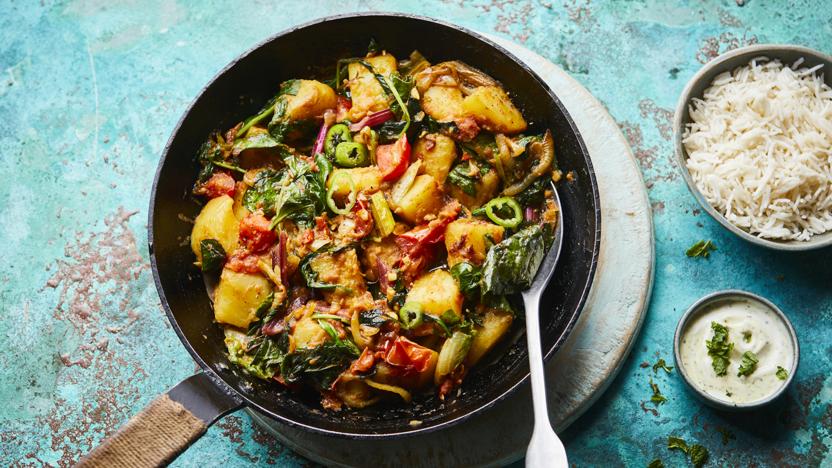 Clear the slightly sorry greens and leftover potatoes out the fridge to make this versatile vegetable curry. It can easily be doubled to serve four.
Ingredients
1 tbsp sunflower or coconut oil, plus extra for frying
1 medium onion, thinly sliced
2 heaped tsp medium curry powder
3cm/1¼in piece fresh root ginger, peeled and grated or ½ tsp ground ginger
1 large garlic clove, finely chopped
pinch sugar
200g/7oz mixed greens, such as baby spinach, chard, kale and lettuce, shredded
salt
To serve
Method
Heat the oil in a large, deep frying pan and fry the onions for 5 minutes over a medium heat, then add the cooked potato and fry for another 5 minutes until golden. If you don't have any leftover potatoes, bring a pan of water to the boil and cook your potatoes until just tender, then cut into roughly 2cm/¾in chunks and fry with the onions. Tip into a bowl and set aside.

Add a little more oil to the pan, reduce the heat slightly and add the curry powder, ginger and chilli. Stir for a minute or two.

Add the garlic and fry for 30 seconds, then add the tomatoes, sugar and 50ml/2fl oz water. Cook for 10–15 minutes until the sauce has thickened.

Add the chopped greens and allow to wilt, then return the cooked potatoes and onions to the pan. Season with salt and cook for 5–10 minutes more.

Serve with basmati rice and yoghurt or raita.