Fresh mackerel with roasted rhubarb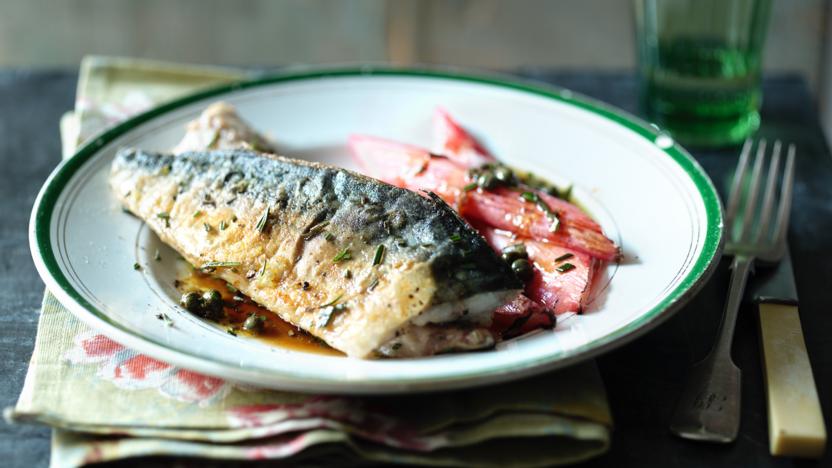 Believe it or not, this is a classic combination. Tart rhubarb cuts through the richness of smoky, oily mackerel for a perfect spring supper.
Ingredients
For the roasted rhubarb
For the mackerel
Method
For the roasted rhubarb, preheat the oven to 200C/400F/Gas 6. Cut the rhubarb into 15cm/6in or so lengths (about the length of a wooden spoon-handle) and place in a roasting tin with half a tea-cup of water and the light brown sugar. Roast until just soft enough to take the point of a knife, about 10-15 minutes. Allow to cool, then drain, reserving the cooking juices.

Dip the skin side of each mackerel fillet into the seasoned flour to lightly coat. Heat the oil in a large frying pan. Gently place the mackerel fillets in the hot pan, skin-side down, and scatter over the rosemary. Add the roasted rhubarb to the side of the pan to heat through and add the capers for a little vinegary flavour.

Turn the mackerel after just two or so minutes when you can see that the mackerel is cooked halfway up the fillet. Cook for a further minute or two, then add the sherry vinegar for richness and allow to just come to the boil in the pan before removing the mackerel and the rhubarb. To the pan juices, add a little of the juices from the reserved roasted rhubarb to just lift the crispy bits from the pan where all the flavour is. Serve straightaway, with the sauce over the mackerel with the rhubarb on the side.