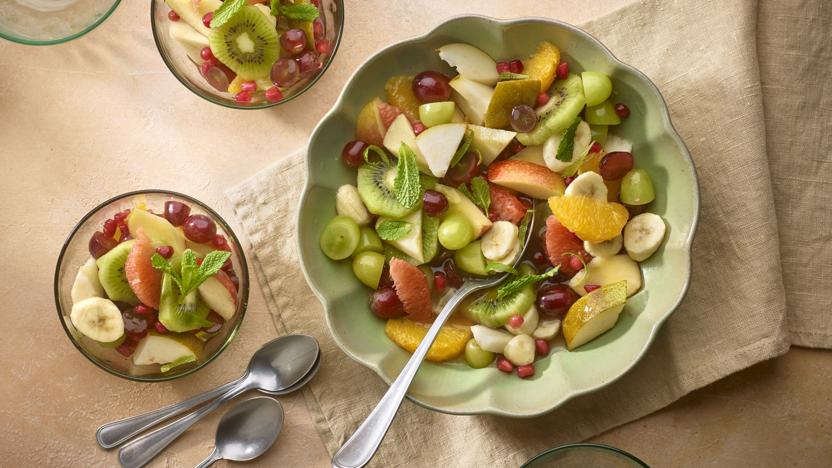 Vary this easy fruit salad with whatever fruits you can find in the shops. Tropical fruits make a nice addition too such as mango, passionfruit or even persimmon or dragon fruit. Skip the syrup if you don't have time.

Each serving provides 159kcal, 1.5g protein, 36g carbohydrate (of which 35g sugars), 0g fat (of which 0g saturates), 4g fibre and 0g salt.
Ingredients
For the fruit salad
For the syrup
Method
For the fruit salad, segment the grapefruit and orange, catching the juices in a bowl. Squeeze more juice out of the remaining citrus fruit into the bowl. Set aside the orange and grapefruit segments.

For the syrup, measure the juice and add water to make 100ml/3½fl oz.

Peel a large strip of lime zest from the lime, avoiding any of the white pith. Reserve the remaining lime.

Combine the citrus juice/water mixture and the sugar in a small saucepan. Heat until the sugar has dissolved, stirring once or twice. Add the lemongrass, lime zest and ginger and then bring to a boil. Immediately reduce the heat to a simmer.

Simmer over a low heat for 10 minutes. Turn off the heat and leave the syrup to cool.

For the fruit salad, remove the seeds from the pomegranate and slice the banana.

Peel another slice of zest from the lime using a vegetable peeler, avoiding any of the white pith. Slice it very finely and reserve this for decoration. Set aside the remaining lime as you will need the juice.

Cut the grapes in half and slice the kiwi.

Finally chop the pear and apple, pouring a little lime juice over the apple to retain its colour.

Combine all the fruit in a large bowl or in individual serving dishes or Martini glasses. Pour over the syrup, to taste. You may not need to use all the syrup – any remaining syrup can be used in cocktails or added as a sweetener to herbal tea. Decorate with strips of lime and a sprig of mint.
Recipe Tips
If you don't wish to use sugar in this recipe, you can replace the quantity of sugar with honey. Vary the syrup by using the flowers from three sprigs of lavender instead of the lime zest, ginger and lemongrass.