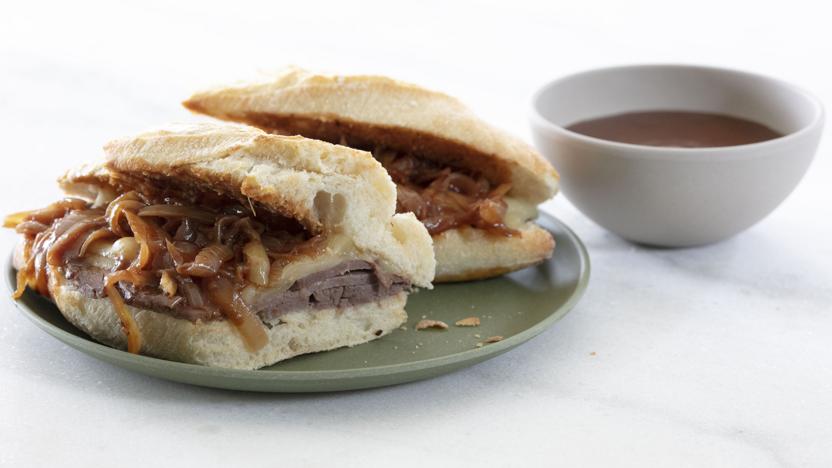 You can put a lot of time and money into the perfect French dip sandwich, but this recipe acknowledges that you may have other things to do. The effort in this recipe is only in waiting for your onions to become soft, golden brown and sweet to make a great onion gravy.
Method
Melt the butter in a saucepan over a medium–low heat. Add the sliced onions and a pinch of salt. Cook the onions for 20–25 minutes, stirring occasionally, until they are very soft and dark brown. Sprinkle over the flour and stir, cooking for 5 minutes until the mixture smells slightly toasty.

Pour in the red wine (if using), stirring constantly, and simmer for a minute before adding the soy sauce and tomato purée. Stir until completely incorporated and smooth before gradually adding the stock, stirring until the stock is incorporated and the gravy is silky and thickened. Season with salt and pepper. Simmer the gravy for 5 minutes or so.

Meanwhile, preheat the oven to 200C/180C Fan/Gas 6.

Spread mustard or horseradish sauce on the baguette, if using. Divide the roast beef between the baguettes and place the emmental on top. Put the sandwiches onto a baking tray and heat in the oven until the cheese is melted.

Strain the gravy into two heated bowls, and place the onions on top of the cheese in the sandwich. Serve each sandwich with the gravy alongside for dipping.