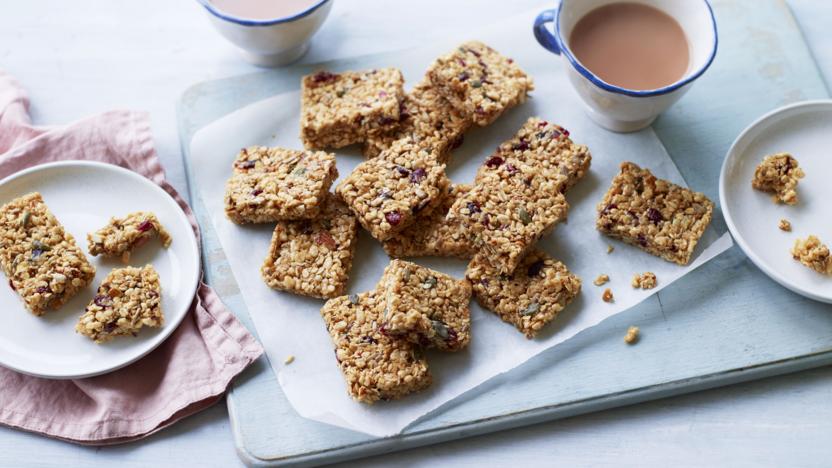 Using peanut butter instead of butter means less fat and more protein than traditional flapjacks.

Each serving provides 136 kcal, 3g protein, 16g carbohydrates (of which 10g sugars), 6g fat (of which 1g saturates), 2g fibre and trace salt.

Method
Lightly grease a 33x23cm/13x9in baking tray that is about 3cm/1in deep. Line with cling film.

Put the oats and almonds in a food processor and blend for 10–20 seconds, until fairly well broken down (you want some texture, but it should be slightly powdery). Tip into a large bowl then add the seeds, cranberries and rice pops and stir really well.

Heat the agave syrup, peanut butter and honey in a small saucepan over a medium heat until melted. Stir, then pour this over the oat mixture and mix well with a spoon, until cooled slightly. Mix with your hands to make sure all the oats are coated.

Tip into the tin and spread out evenly. Lay a sheet of cling film over the top, then press down firmly to squash the mixture flat. Leave in the freezer for 1 hour until set.

Remove the top layer of cling film, then tip out onto a board, remove the remaining cling film and cut into 24 bars.

To keep, layer them up between sheets of greaseproof paper and store in a sealed box in the fridge. They can also be kept in the freezer.
Recipe Tips
Make them with porridge oats and chopped nuts if you don't have a food processor.
If you need these bars to be gluten-free, ensure you use gluten-free oats.
This recipe is from...
Recipes from this episode