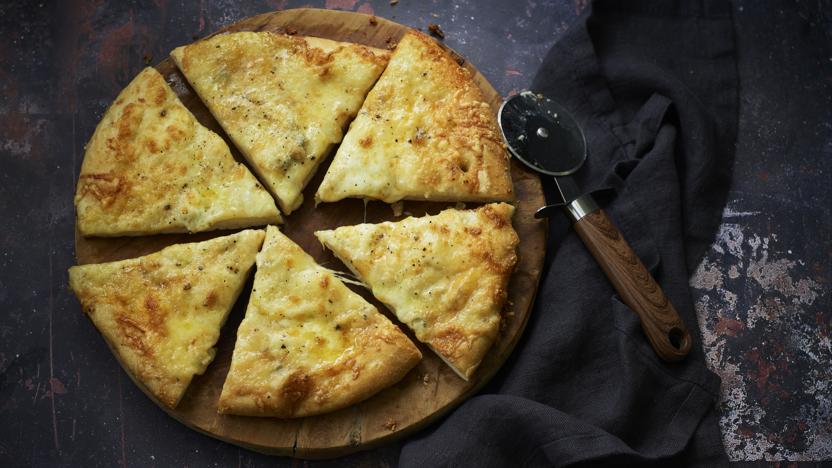 Pizza ai quattro formaggi – pizza with four cheeses – can be rossa (red) with a base of tomato or bianca (white) with just the cheese.

For this recipe you will need a pizza stone (alternatively preheat a heavy baking tray).
Ingredients
For the dough
½ tsp caster sugar
300g/10½oz '00' flour
200g/7oz strong white bread flour, plus extra for sprinkling
2 tsp salt
35ml/1¼fl oz olive oil, plus extra for greasing
For the topping
Method
In a jug, dissolve the yeast in 300ml/10fl oz tepid water then add the sugar. Leave in a warm place for 10 minutes, or until it starts to bubble gently. Put the flours in a large bowl, make a well in the centre and pour in half of the yeast mixture. Mix then add the salt and oil and mix again before adding the rest of the yeast mixture. Bring the dough together with your hands or a wooden spoon.

Grease your hands and a work surface with olive oil and turn the dough out. Knead, using the heel of your hand to fold the dough up and over itself, for 3 minutes. Put the dough in a clean, lightly oiled bowl, cover with a damp tea towel and leave to prove in a warm place for 2 hours, or until it doubles in size.

Turn the dough out onto a lightly floured surface and cut in two, then tuck the corners under to make neat balls. Put on a tray, cover with cling film and leave to prove again for another 20 minutes.

Preheat the oven to 240C/220C Fan/Gas 9 and preheat two pizza stones or heavy baking trays (baking trays are less effective than pizza stones but will still help the base cook quickly).

Dust a work surface with flour, roll each dough ball into a circle and dimple with oily fingertips. If you are adding passata, spread it over the bases. Divide the mozzarella, gorgonzola and fontina cheeses between the pizzas, leaving a small border to allow for melting and making sure the cheeses make a nice patchwork. Sprinkle the Parmesan over the top and grind over black pepper.

Transfer the pizzas to the pizza stones and bake in the middle of the oven for 15 minutes or until the cheeses have melted and the edges are golden.
Recipe Tips
This straightforward pizza dough produces a pizza that is somewhere between a thin and crisp-edged Roman pizza and the plumper bordered Neapolitan one. It is not a wet dough, but kneading with oily hands on an oily surface prevents the incorporation of too much extra flour. It also lends flavour and helps give a deep colour as it bakes.