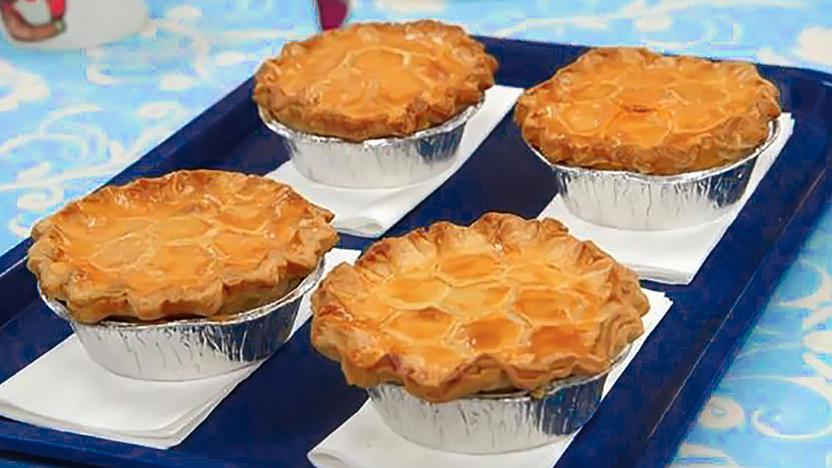 These tasty pies are cooked in small, round foil tins - just like the ones you get at football games.

For this recipe you will need 4 small (about 11cm/4in), round foil pie dishes.
Ingredients
For the pastry
For the filling
Method
Put the flour, salt and butter in a bowl and rub together using your fingertips, until the mixture resembles breadcrumbs and there are no lumps of butter left. Add the egg yolks and a tablespoon cold water. Gently bring the pastry together, adding more water if necessary.

Tip the pastry onto a lightly floured work-surface and gently knead until it has formed into a shiny ball. Wrap in cling-film and chill for at least 45 minutes.

For the filling, heat the oil in a large frying pan, and fry the onion until it begins to soften. Add the mince and fry until completely browned, moving it all the time. Add the tomato purée and cook for a few minutes. Add the flour and cook for 1 minute, pour in the stock and a few shakes of Worcestershire sauce.

Turn the heat down to a simmer, season and leave to cook for about 20 minutes or until the sauce has reduced and thickened. Turn off the heat and leave to cool.

Preheat the oven to 200C/180C Fan/Gas 6.

Remove the pastry from the fridge and unwrap it. Divide the pastry into quarters and then halve each quarter.

To line each of the pie dishes, roll out one of the pieces of pastry to a thickness of 2mm, and line the foil pastry case by gently pressing the pastry right to the base. There needs to be about 1cm pastry overhanging the edges. Repeat to line the other tins.

Now roll out the other pieces of pastry, slightly thicker this time, to make the pie lids.

Mix the peas into the cooled filling and divide between the pie dishes. Brush a little egg wash around the overhanging pastry and place the lids on top. Trim the edges of the pastry. Crimp the edges of the pastry by pinching the edge with your forefinger and thumb, and then using the forefinger of your other hand, push up from below, creating a neat wave. Repeat all the way around the edge.

Brush a little more egg wash on top, and score a design in the top of the pastry to make it look like a football. Place on a baking tray, and bake for 30-40 minutes, or until the pies are crisp and golden-brown.

Remove from the oven and wait ten minutes before removing the pastry cases. Serve warm.