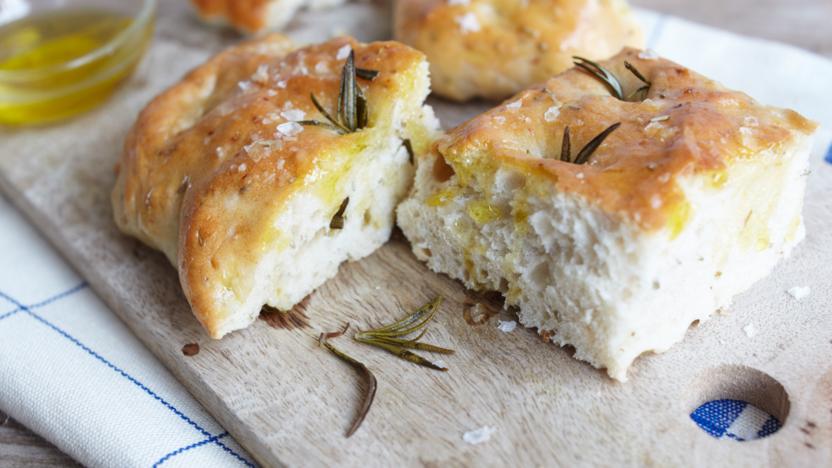 This focaccia recipe is easy to make and easy to adapt with whatever herbs you have in the house.


Method
Place the flour, salt, yeast, olive oil and 300ml/10½fl oz of the water into a large bowl. Gently stir with your hand or a wooden spoon to form a dough, then knead the dough in the bowl for five minutes, gradually adding the remaining water.

Stretch the dough by hand in the bowl, tuck the sides into the centre, turn the bowl 90 degrees and repeat the process for about five minutes.

Tip the dough onto an oiled work surface and continue kneading for five more minutes. Return the dough to the bowl, cover and leave to rise until doubled in size.

Line a large baking tray with baking paper. Tip the dough out of the bowl and flatten the dough onto the prepared tray, pushing to the corners, cover with a large plastic bag, making sure it does not touch the top of the dough, then leave to prove for one hour.

Preheat the oven to 220C/200C Fan/Gas 7. Drizzle the loaves with oil, sprinkle with fine sea salt then bake in the oven for 20 minutes. When cooked, drizzle with a little more olive oil and serve hot or warm.
Recipe Tips
Try adding herbs such as rosemary or thyme, or perhaps some chopped chilli.
If you wish to top the focaccia with rosemary, just before you drizzle the loaf with olive oil, make small indentations all over the dough. Then break off small sprigs of rosemary from a couple of larger sprigs, and push them into each of the indentations.
This recipe is from...
Recipes from this episode