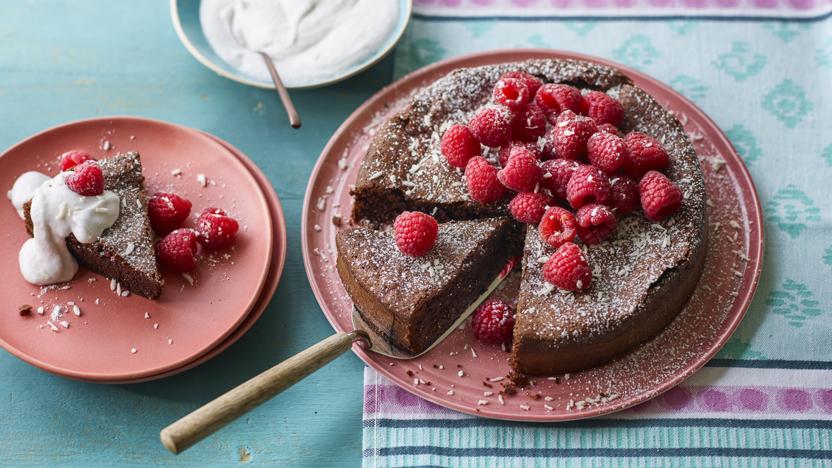 Rich and decadent, this gluten-free and dairy-free chocolate cake can be served with a dollop of whipped coconut cream and raspberries. The addition of nut butter or tahini gives it a deep, nutty flavour.

You will need a loose bottom 18cm/7in baking tin and an electric whisk for this recipe.
Ingredients
To serve (optional)
Method
Preheat the oven to 180C/160C Fan/Gas 4 and lightly grease a 18cm/7in baking tin with oil (ideally a loose bottom one to make it easier to remove the cake later).

Melt the coconut oil in a small pan and add the chocolate and the nut butter (or tahini). Melt and mix to combine everything, then set aside.

Place the eggs and the sugar in a bowl. Using an electric whisk, whisk until the eggs puff up, lighten in colour and become very foamy. (This is known as the ribbon stage, meaning that when you remove the whisk it should leave a ribbon-like mark in the mixture, which slowly disappears. It should take about five minutes on a high speed).

Fold the chocolate mixture gently into the egg mixture with a spatula. Sprinkle in the cocoa powder, coconut and ground almonds. Continue folding until the mixture is homogenous. Transfer the mixture to the prepared baking tin. Bake in the centre of the oven for 10 minutes, then rotate the cake for an even bake and bake for another 8 minutes. Remove from the oven and leave the cake to cool down in the tin for at least 2 hours somewhere cool, but not the fridge.

Remove the cake carefully from the tin. Serve at room temperature for the best result. (If you have kept it in the fridge, make sure to bring it up to room temperature before serving.) Top with whipped coconut cream and raspberries just before serving if liked.
Recipe Tips
Make sure you really whip the eggs so that the cake stays nice and fluffy. Melt the coconut oil over a very gentle heat so that the chocolate doesn't burn.