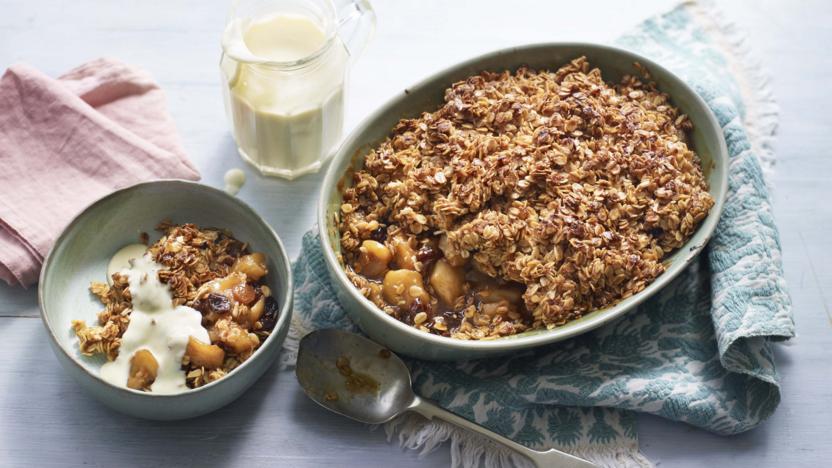 Since school, apple crumble has been a go-to in Nadiya's house, with the addition of a few spices and the omission of powdered custard.
Ingredients
For the flapjack crumble
For the apples
For the vanilla custard
Method
Preheat the oven to 150C/130C Fan/Gas 2.

For the crumble topping, spread the oats on a large baking tray and bake for 10–15 minutes, stirring once, until they are toasted and golden in colour. Once toasted, put the oats into a bowl and add the lemon zest. Leave the oven on.

Melt the butter, sugar and syrup in a saucepan over a medium heat until the sugar has dissolved. Pour over the oats, give it a good mix and set aside.

Put the apples, butter, cinnamon, 1 tablespoon of sugar and the lemon juice into a pan. Cook for about 10 minutes on a medium heat, until the apples have softened slightly. Stir in the cornflour and raisins, then tip the mixture into a 25cm/10in square or round ovenproof baking dish. Top with the flapjack mix in an even layer. Bake on the middle shelf of the oven for 40–45 minutes.

Meanwhile, for the custard put the milk and vanilla into a pan and bring to the boil, then turn down to a gentle simmer. Put the egg yolks, sugar and cornflour into a bowl and whisk until the mixture is light. Slowly add the warm milk in a steady stream, whisking all the time. Once all the milk is added, pour it back into the pan over a medium heat and stir gently with a spoon till the mixture thickens.

Pour straight into a serving jug and, if there is a wait, cover with cling film, making sure the film touches the top of the custard. Unless of course you enjoy the skin, in which case by all means leave it exposed. Serve the crumble with the custard alongside.
This recipe is from...
Recipes from this episode