Chinese 5-spice duck with noodles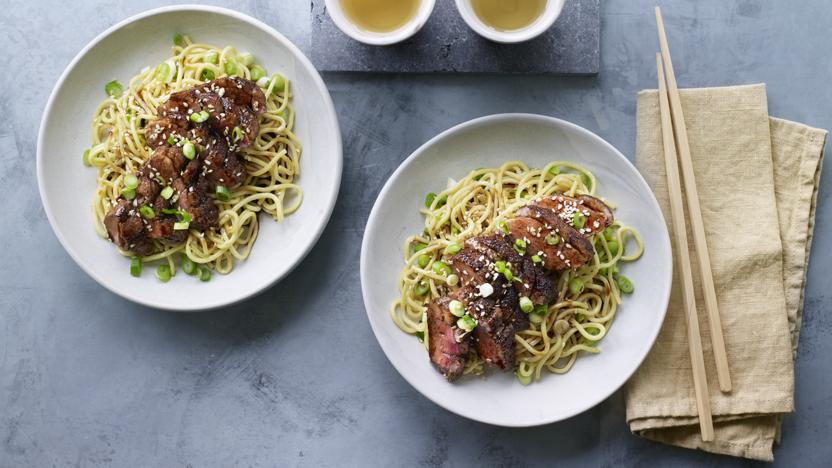 Change up from chicken with Mike Robinson's quick and easy 5-spice Chinese duck and noodles. It couldn't be simpler.
Method
Preheat the oven to 180C/170C Fan/Gas 4.

With a sharp knife, score a cross-hatch pattern into the duck fat. Rub the five-spice into the fat and season with salt and pepper.

Heat a heavy-based ovenproof frying pan. Place the duck breasts skin-side down and season the other side with five-spice, salt and pepper. Cook for about 3 minutes or until most of the fat has run out into the pan and the skin is golden-brown. Turn the duck over and cook for 1 minute. Then cook in the oven for 3–5 minutes then allow to rest.

Warm the honey and soy sauce together in a small pan. Bring to for 1 minute. Allow to cool.

Bring a pan of salted water to the boil and cook the noodles for 3–4 minutes or according to packet instructions. Drain and toss with half the spring onions, the lime juice and some sesame oil. Place between 2 bowls.

Slice the duck into strips and place on top of noodles. Drizzle over the sauce and top with the remaining spring onions, sesame oil and sesame seeds.