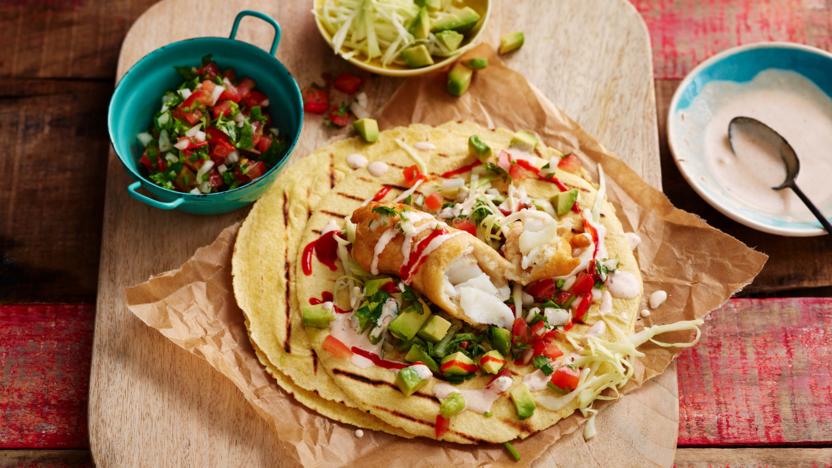 We cooked some fish tacos on the beach with our Australian lifeguard friends in Cornwall and I always thought one day I'd get to Ensenada, find the tacos they spoke of. That's how it happened and this is the recipe.
Ingredients
For the chipotle crema
For the pico de gallo salsa
For the batter
To serve
Method
To make the chipotle crema, mix the ingredients together with a pinch of salt in a small bowl and set aside.

To make the salsa, mix all the ingredients together with ½ teaspoon of salt in a small bowl, and set aside.

Heat the oil in a large heavy-based pan to 190C (CAUTION: hot oil can be dangerous. Do not leave unattended).

To make the batter, sift 200g/7oz of the flour, 1 teaspoon of salt and the baking powder into a large bowl. Whisk in the lager until smooth. Tip the remaining100g/3½oz flour into a small bowl and season well with salt and pepper.

In batches, coat the fish in the seasoned flour, shake off the excess, then dip into the batter. Fry each piece for 2–3 minutes, until crisp and golden-brown. Repeat until all the fish is cooked. Drain each batch on kitchen paper to remove any excess oil. Sprinkle lightly with salt.

Warm the tortillas in a dry frying pan, microwave or oven.

Serve the fish immediately in the warm tortillas, with the cabbage, avocado, salsa and sauces on the side.
This recipe is from...
Recipes from this episode