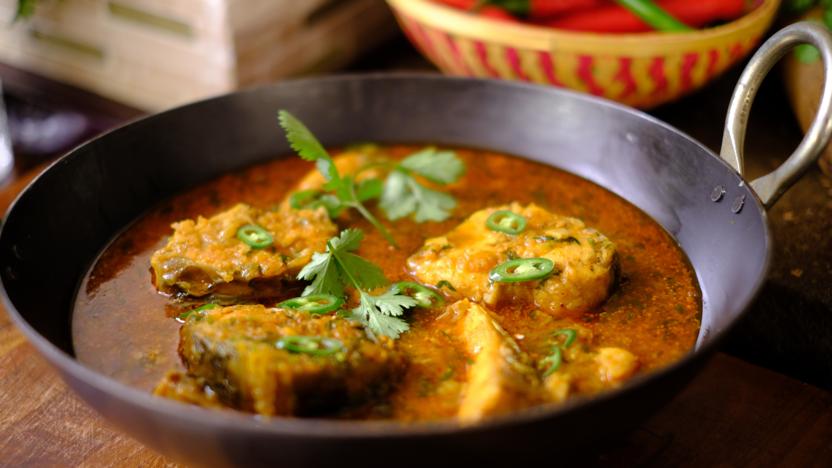 Rohu is commonly eaten in Bangladesh and is known as the king of fish. It can be difficult to source, but the recipe also works well with monkfish (which is similar in flavour and texture) or any firm white fish – just reduce the cooking time a little if the fish pieces are smaller.

For this recipe you will need a pestle and mortar.
Ingredients
800g/1lb 12oz rohu steaks, gutted, scaled and cut into 2.5cm/1in-thick steaks across the bone. Alternatively use 800g/1lb 12oz monkfish, sinew removed and chopped into 2.5cm/1in pieces.
½ tsp salt, plus extra for seasoning
1 tsp turmeric
2 tbsp black mustard seeds
2–3 tbsp vegetable oil, for frying
2 medium onions, finely chopped
1 whole bulb garlic (about 8–10 cloves), peeled and pounded in a pestle and mortar
¼ tsp chilli powder
1 heaped tsp ground coriander
1 heaped tsp garam masala
1 heaped tsp paprika
450ml/16fl oz boiling water
handful of chopped coriander, plus extra leaves to garnish
To serve
green chillies, finely chopped
240–360g/8½–12¼oz basmati rice, cooked according to packet instructions
Method
Put the fish steaks in a large bowl. Sprinkle with salt and half the turmeric and mix together, making sure the fish is well coated. Set aside to marinade for a few minutes.

Heat a small frying pan over a high heat and fry the mustard seeds for 1–2 minutes until lightly toasted and fragrant and beginning to pop. Tip into a pestle and mortar and pound until finely ground, then set aside.

Heat a large non-stick pan over a medium heat and add the vegetable oil. Once hot, tip in the onions and fry for 8–10 minutes over a medium-low heat until starting to colour. Season with salt and continue to cook for a few more minutes until lightly golden.

Add the pounded garlic to the pan and cook for 2 minutes, stirring constantly before adding the remaining half teaspoon turmeric, chilli powder, ground coriander, garam masala and paprika. Mix together and stir over a low heat for a further 2–3 minutes. When the mixture gets dryer, add 250ml/9fl oz boiling water to loosen and cook for a minute before adding 2 heaped teaspoons of the pounded mustard seeds (reserve the rest for another usage). Allow to cook gently for 3-4 minutes while stirring.

Wash the fish by rinsing well with cold water. Then add to the pan along with enough hot water to cover the fish (approximately 150–200ml/5½–7fl oz). Swirl the pan to cover the fish in the sauce. Cook gently for around 6–8 minutes, carefully turning the fish halfway through cooking. The curry is ready when the fish is opaque and cooked through and the sauce has started to thicken (it should have a loose consistency). Add the freshly chopped coriander and season to taste with salt.

Heat for another minute, don't stir the pan as this might break up the fish – just give the pan a gentle swirl or shake. Serve the fish curry with sliced green chilli, extra coriander leaves and basmati rice.
Recipe Tips
It's best to ask your fish supplier to prepare the rohu into 2.5cm/1in steaks though the bone. If preparing the rohu yourself, allow the fish to defrost before removing the scales with the back of a spoon, then remove the fins and tail using a sharp knife. Cut into steaks across the bone using a heavy knife. Allow to defrost completely before cooking.
This recipe is from...
Recipes from this episode