Fillet steaks stuffed with goats cheese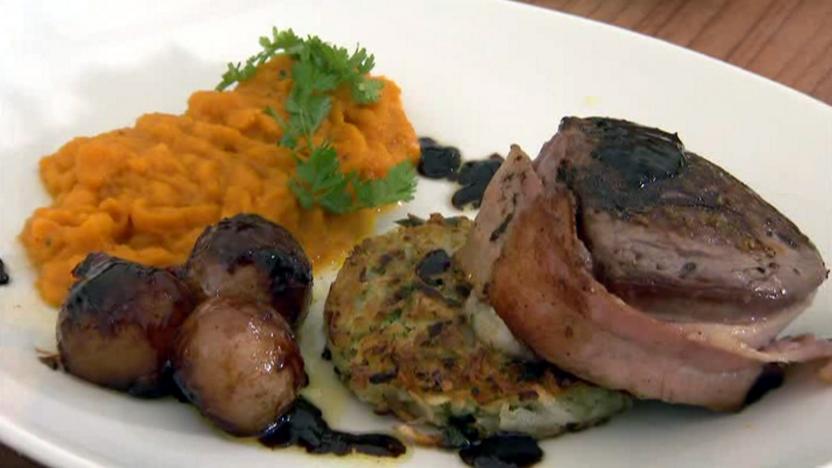 This recipe takes a little time, but is worth the effort for some show-off cooking for your friends.
Ingredients
For the candied shallots
For the stuffed steaks
Method
For the candied shallots, bring a pan of water to the boil. Simmer the shallots in the water for 5 minutes, then drain. Heat the butter in a frying pan, add the shallots and cook over a medium low heat until lightly browned. Add the sugar, heat gently and stir until the sugar starts to caramelise.

Mix the wine, port, cassis and stock in a jug. Add about a quarter of this to the pan of shallots, bring to the boil, then add the bay leaf, thyme and lemon zest. Keep adding the remaining liquid gradually, reducing each time, until the shallots are just covered with a lovely sticky glaze, then set aside until needed.

For the steaks, take the steaks out of the fridge an hour or so before cooking so that they are at room temperature.

Crumble the cheese into a bowl, then add the rosemary, lemon zest and garlic.

Using a sharp knife, cut a pocket horizontally in each steak, taking care not to cut all the way through the steak. Place one-quarter of the cheese stuffing into each pocket. Close the flap, and wrap a rasher of bacon around each steak, helping to seal the pocket. Secure with a cocktail stick.

Rub olive oil over the steaks, then sprinkle with salt and pepper to season.

Heat frying pan until hot and fry the steaks for 3-4 minutes on each side (for medium) or until cooked to your liking. For a 2.5cm/1in thick steak, 2-3 minutes per side will give you a rare steak, 3-4 minutes per side will give you a medium-rare steak; and 4-5 minutes per side will give you a medium to well-done steak.

Allow the steaks to rest for 5 minutes. Meanwhile, gently reheat the shallots. Serve the steaks with the candied shallots.
Recipe Tips
Using a good quality stock will really improve the flavour of the candied shallots.
If making for a gluten free diet, check that the stock you are using for this recipe is suitable.
Wines
A well-rounded merlot
This recipe is from...
Recipes from this episode