Feta-stuffed lamb with fried potatoes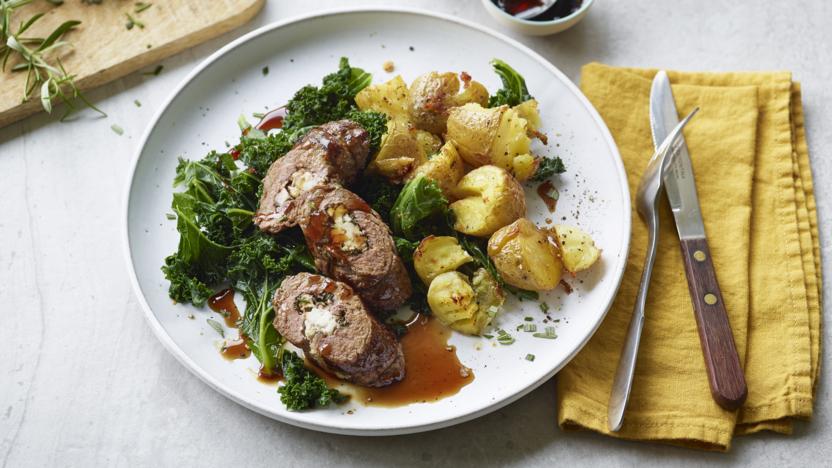 This stuffed lamb dinner for two tastes really special, but it's deceptively quick and easy to make – microwave the potatoes to save time before flash-frying.

For this recipe you will need kitchen string.
Ingredients
For the potatoes
To serve
Method
Put the lamb fillets on a board and cover with a piece of baking paper. Using a meat hammer or rolling pin, bash the meat to make two thin escalopes (a rough rectangle each around 22x11cm/8½x4¼in and 5mm/¼in thick). Season with a little salt and freshly ground black pepper, the cumin and a little of the chopped mint.

Crumble half of the feta down the centre of each lamb fillet (from one short end to the other) and roll the meat around it. Tie with kitchen string at 3cm/1¼in intervals to make two long parcels.

Heat a tablespoon of oil in a large frying pan and fry the lamb over a medium heat for 5 minutes, turning regularly until browned on all sides. The lamb inside should be pink, so if you prefer your meat well done, cook for 2–3 minutes more.

While the lamb is cooking, rinse the potatoes in cold water and prick with a fork. Put on a microwave-safe plate and cook in the microwave on high (900 watt) for 4–6 minutes, or until tender. Roughly break up using a fork. Toss in a teaspoon of oil and then the flour. Season well with salt and pepper.

Put the lamb parcels on a plate to rest and add the potatoes to the frying pan with the remaining tablespoon of oil. Cook over a high heat for 3 minutes, or until golden and crispy, turning regularly. Sprinkle with a little rosemary or thyme, if you like. Divide between two warmed plates.

Add the balsamic vinegar and honey to the hot frying pan, and stir together until well combined. (There is no need for any additional heat.)

Remove the string and thickly slice the lamb. Serve with the potatoes and steamed green vegetables, drizzled with the balsamic honey glaze. Scatter over extra mint and a little thyme, if you like.
This recipe is from...
Recipes from this episode