Fennel and mushroom tartlets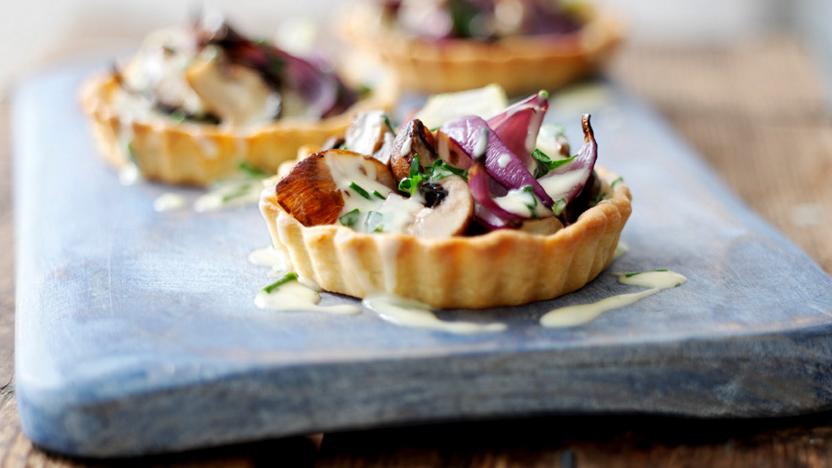 These beautiful delicate fennel tartlets make a gorgeous starter or part of a buffet lunch.

Ingredients
For the filling
To serve
Method
Grease 4 x 10 cm/4 in tartlet tins. Roll out the pastry to about 3 mm/1/8 in thick, and use to line the prepared tartlet tins.

Chill the lined tins for at least 30 minutes in the fridge.

Preheat the oven to 180C/375F/Gas 4.

Cover the pastry with greaseproof paper, fill with baking beans, and bake for 10-15 minutes, until cooked and light brown. Remove from oven. Remove the paper and the beans and set aside.

Turn the oven up to 220C/425F/Gas 7.

Place all the vegetables and garlic on a baking sheet, drizzle with the light olive oil, and toss gently. Season with salt and pepper and bake in a hot oven for twenty minutes, or until lightly browned.

To make the sauce, bring the cream to the boil in a small pan. Whisk in the butter, and add the lemon juice, herbs, and salt and pepper to taste.

Take two garlic cloves from the vegetables, tease out the roast garlic from the skins, and mash it with the point of a knife. Add this rough mash to the cream mixture.

To serve, fill each pre-baked tartlet shell with the vegetable mixture.

Heat the tarts for a minute or two in the oven, and then present on warmed plates, surrounded with a little sauce.

Serve with herby salad.