Fennel and lemon risotto, Parmesan crisps and fennel fritters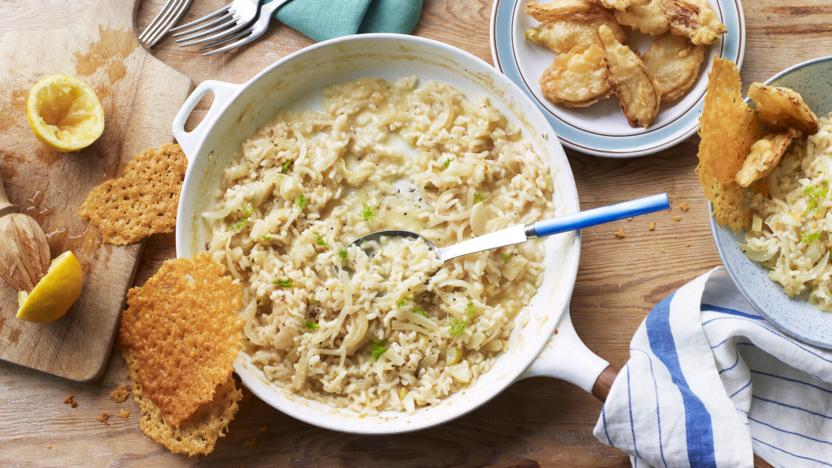 Fennel and lemon bring a zesty aniseed vibe to this classic Italian dish and the simple fennel fritters bring a touch of sophistication.
Ingredients
For the fennel fritters
Method
To make the risotto, heat 1 tablespoon oil in a large heavy-bottomed saucepan over a medium heat. Sauté the garlic, fennel seeds and chilli flakes for 1–2 minutes. Add the finely chopped fennel and cook for 15–20 minutes, or until softened.

Meanwhile, preheat the grill to medium–high. Using half the Parmesan, spread piles of cheese onto a silicon sheet and grill until melted and golden – if the cheese is spread too thinly it will burn. Remove and leave to cool before breaking into pieces.

Heat the remaining 1 tablespoon oil in a large frying pan over a medium heat and cook the onion until softened. Stir in the rice and cook for 1–2 minutes. Pour in the wine and let it bubble until all the liquid has gone. Add the stock, ladle by ladle, stirring and cooking each ladleful until it has been absorbed before adding any more. Continue adding the stock and cooking like this until the rice is tender but still creamy (about 25–30 minutes).

Stir in the remaining cooked fennel, lemon zest and juice and plenty of seasoning. Stir in remaining Parmesan, cover and remove from the heat while you make the fritters.

To make the fritters, beat together the soda water and egg in a bowl. Place the bowl into a larger bowl full of ice (this will keep the batter as cold as possible). Slowly stir in the cayenne pepper, baking powder, cornflour and plain flour.

Heat the oil in a deep saucepan until it reaches 180°C, or a cube of bread browns in 20 seconds. (CAUTION: hot oil can be dangerous. Do not leave unattended.)

Dip the fennel wedges in the batter and deep-fry for 1–2 minutes or until golden. Drain on kitchen paper.

Garnish the risotto with the fennel fronds and Parmesan crisps and serve with the fennel fritters.