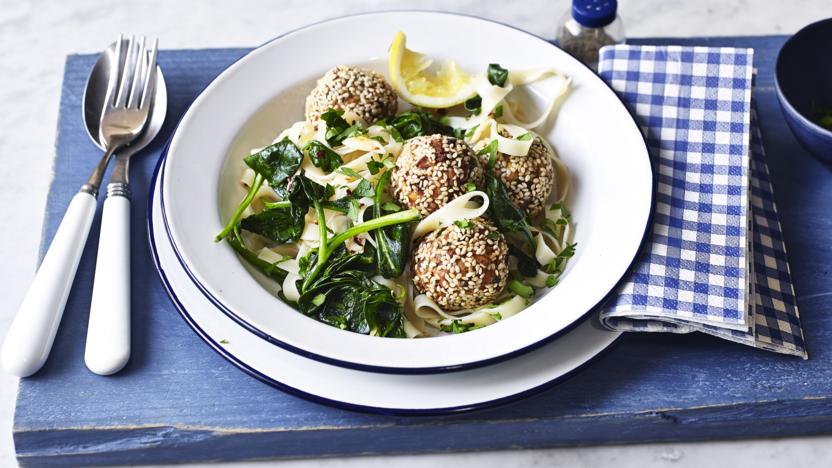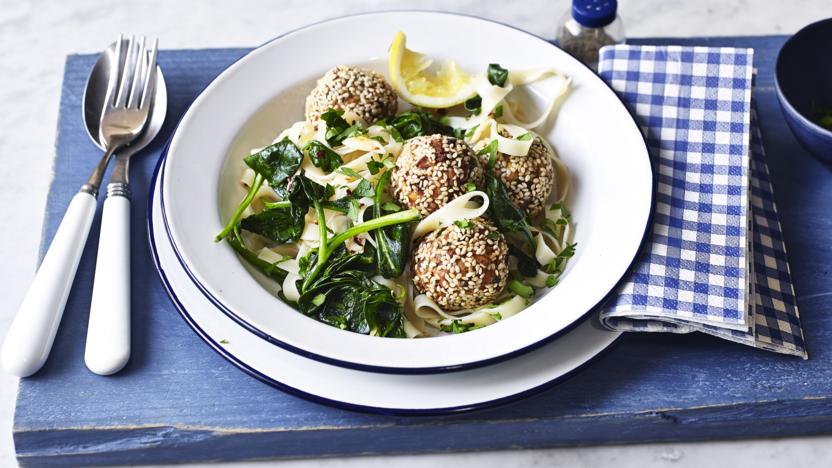 Easy-to-make falafel. Keep the mixture in the fridge and use to make speedy meals any time!
Ingredients
For the falafel (makes 12-15)
For the pasta with falafel
For the pitta
For the breakfast toast
Method
For the falafel, tip the chickpeas, onion, garlic, spices, salt, gram flour, fresh coriander and egg into a food processor and pulse until it is blended but still has some texture. Roll the mixture into 12–15 small balls and coat each in sesame seeds. Refrigerate for 30 minutes, or until ready to use. To cook the falafel, heat the oil in a frying pan until medium–hot. Fry for 10 minutes, turning regularly, until golden and cooked through.

For the pasta, boil the tagliatelle following the packet instructions or until al dente, then drain well. Meanwhile, heat the oil in a frying pan, add the garlic and chilli and cook, stirring, for 1 minute. Add the spinach and stir for 1 minute or until wilted. Tip in the tagliatelle and parsley and heat through for a few seconds, stirring. To serve, top with four cooked falafel and squeeze over the lemon juice.

For the pittas, preheat the oven to 210C/190C Fan/Gas 6. Put the pitta triangles on a baking tray, drizzle over 1 tablespoon oil and sprinkle with sea salt. Bake for 5–10 minutes, or until crisp. Mix the Little Gem and red onion and dress with the remaining oil and the lemon juice. Serve with four cooked falafel and the yoghurt.

For the breakfast toast, toast the sourdough and top with the broken up falafel. Fry the egg in the oil over a high heat and place on top of the toast. Sprinkle over paprika and serve.
Recipe Tips
This recipe be scaled up or down to serve a crowd or create a meal for one.