Fabulous fruity jewelled tarts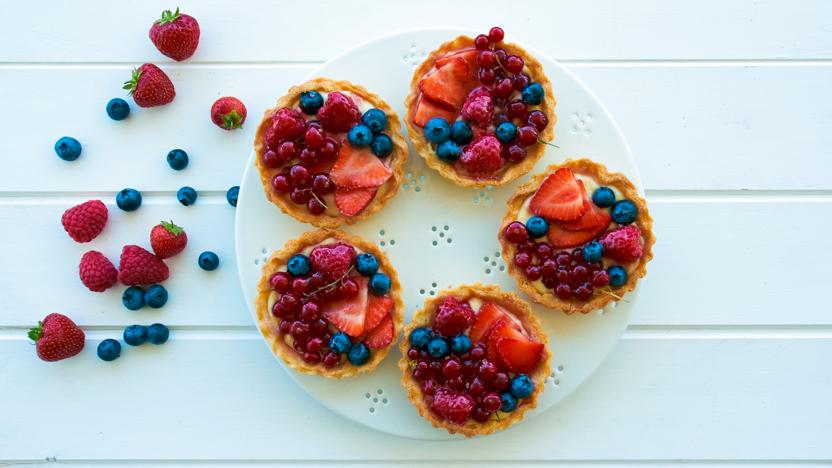 These pretty fruit tarts are perfect for picnics or make-ahead summer desserts. The buttery pastry and vanilla custard filling is to die for.

For this recipe you will need a food processor and 12 x 10cm/4in fluted tart tins.
Ingredients
For the pastry
For the filling
Method
For the pastry, put the flour, icing sugar and salt in a food processor and pulse briefly to combine. Add the butter and pulse briefly until the mixture resembles fine breadcrumbs. Add the beaten eggs and yolks and pulse until the mixture comes together. Turn out onto the work surface, knead very briefly and shape into a thick disc. Wrap the pastry in cling film and refrigerate for at least an hour.

For the custard, put the egg yolks, caster sugar and cornflour in a bowl and mix well until combined.

Put the milk and split vanilla pods into a saucepan and bring just to the boil. Remove from the heat and carefully fish out the vanilla pods. Slowly pour the hot milk into the egg mixture, whisking all the time.

Return the custard to the saucepan and cook over a medium heat, stirring constantly until the mixture is very thick. Remove from the heat and transfer the custard to a large bowl. Stir in the cream and butter until completely combined, then add elderflower cordial to taste (you do not want it to be overpowering). Press baking parchment down onto the surface of the custard to prevent a skin forming and cool to room temperature, then chill in the fridge until needed.

Grease twelve 10cm/4in fluted tart tins. On a lightly floured work surface, roll out the pastry to a 4mm thickness. Cut 11cm/4¼in circles from the pastry to line the tins, rerolling as necessary. Prick the bases with a fork and chill in the fridge for 30 minutes.

Preheat the oven to 180C/160C Fan/Gas 4.

Put a piece of baking parchment into each pastry case and fill with baking beans. Bake in a preheated oven for 15 minutes, then remove the beans and parchment and return to the oven for 5–8 more minutes, or until lightly golden-brown. Remove from oven and allow to cool.

Heat the redcurrant jelly in a saucepan until melted. Brush the insides of the pastry shells with a thin layer of jelly.

Fill the cases with the custard and top with a generous amount of fruit. Brush the fruits with jelly to give them a shine.
Recipe Tips
It's easy to overwork the pastry when using a food processor, but it's very quick and convenient.
To cut the 11cm/4¼in circles out of the pastry use a small bowl or a cardboard template as a guide if you don't have cutters large enough.