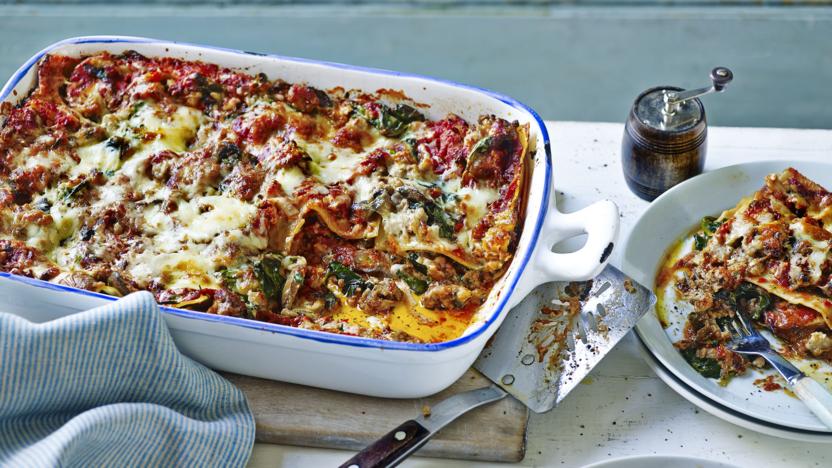 Mary Berry's wonderfully different take on lasagne is super quick, perfect for a midweek supper.

Equipment and preparation: for this recipe you will need a shallow 2¼ litre/4 pint ovenproof dish measuring about 30x20cm/12x8in and 6cm/2½in deep.
Ingredients
For the pork and spinach sauce
For the tomato sauce
Method
Preheat the oven to 200C/180C Fan/Gas 6. Grease the ovenproof dish with butter.

Soak the lasagne sheets in recently boiled warm water to soften while you prepare the two sauces.

For the pork and spinach sauce, heat the oil in a large, non-stick frying pan. Add the sausage meat and brown over a high heat for 5–10 minutes until golden-brown, breaking up the mince with two wooden spoons. Sprinkle in the flour and fry for a minute.

Add the chilli, garlic and mushrooms and fry for about 5 minutes. Stir in the crème fraîche and spinach. Bring to the boil and allow to bubble for a couple of minutes. Season well with salt and pepper and set aside.

For the tomato sauce, mix all the ingredients together in a jug or bowl and season well with salt and pepper.

Drain the lasagne sheets.

Spoon one-third of the spinach sauce into the base of the ovenproof dish. Spoon one-third of the tomato sauce on top and arrange half the lasagne sheets over the tomato sauce. Repeat using two more layers of spinach and tomato sauce and one of lasagne sheets. Sprinkle over the grated cheese.

Bake for 30–35 minutes, or until the pasta is tender and the top of the dish is golden-brown and bubbling around the edges. Serve immediately.
Recipe Tips
Tip 1: Lasagne sheets can vary in size, so you may need more or fewer sheets.
Tip 2: Soaking the sheets of dried lasagne really helps to soften them so that they absorb the sauce better. You could also use fresh sheets of lasagne.
Tip 3: The lasagne can be prepared up to 1 day in advance and cooked when required.
Tip 4: The uncooked lasagne can be frozen. Defrost fully before cooking.
This recipe is from...
Recipes from this episode