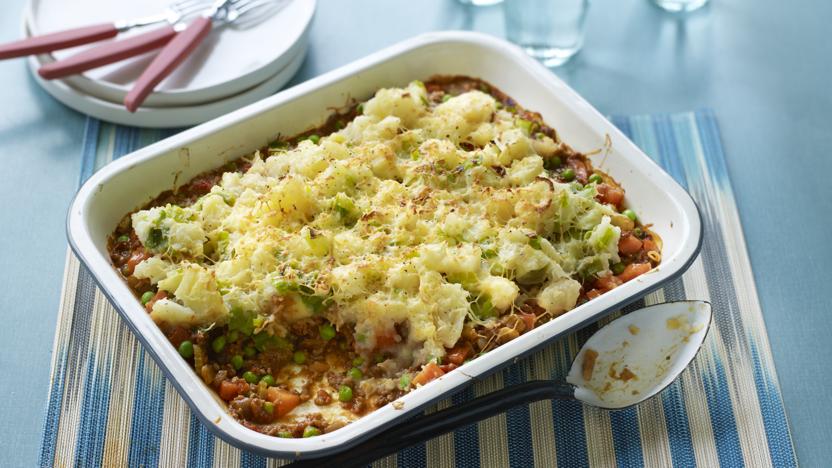 This healthy cottage pie recipe is a world away from diet food. It's hearty, nourishing and packed with vegetables and flavour.

Each serving provides 483 kcal, 32.5g protein, 51g carbohydrates (of which 16.5g sugars), 14g fat (of which 6g saturates), 12g fibre and 1.2g salt.
Ingredients
For the leek and potato topping
700g/1lb 9oz floury potatoes, such as King Edwards or Maris Piper, peeled and cut into 4-cm/1½-in chunks
2 leeks, trimmed and cut into 1-cm/½-in slices
25g/1oz mature cheddar, grated
Method
Place a large, non-stick saucepan or flameproof casserole over a medium heat. Add the beef, onion, celery and carrots to the pan and cook for 5 minutes. Use a couple of wooden spoons to break up the meat as it cooks.

Stir in the tomatoes, tomato purée, stock cube, Worcestershire sauce and mixed herbs. Refill the tomato tin with water and pour into the pan. Season with a good pinch of salt and plenty of pepper. Bring to a simmer, then reduce the heat, cover loosely and simmer gently for about 25 minutes, stirring regularly.

Meanwhile, to make the topping, put the potatoes into a large saucepan and cover with cold water. Bring to the boil, then reduce the heat slightly and simmer for 10 minutes. Add the leeks, return to a simmer and cook for 2 minutes more, or until the potatoes are tender but not falling apart.

Preheat the oven to 220C/200C Fan/Gas 7. Drain the potatoes and leeks and return to the pan. Roughly crush the potatoes with a fork. Season with a little salt and lots of pepper.

Stir the peas into the beef mixture then spoon into a 2 litre/3½ pint shallow ovenproof dish. Using a large spoon, top the beef mixture with the crushed potatoes. There is no need to do it too neatly. Scatter the cheese over the top.

Bake for 25–30 minutes, or until the topping is golden brown and the filling is bubbling. Serve.