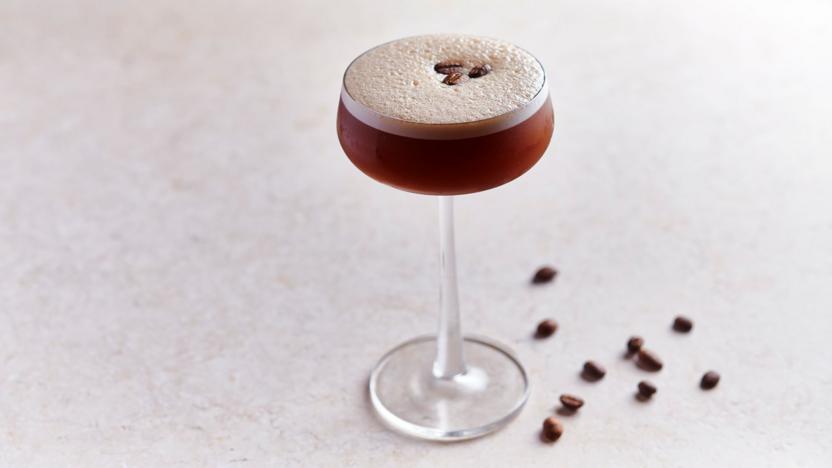 A quick and easy guide to one of the best cocktails ever, the espresso martini. This coffee-based sipper was originally created by the late Dick Bradsell at the Soho Brasserie in London.
Ingredients
To make the sugar syrup
To make the cocktail
Method
For the sugar syrup, put the caster sugar in a small non-stick saucepan over a medium heat and pour in the water. Stir and bring to the boil. (CAUTION: boiling sugar is extremely hot. Handle very carefully. Use a deep pan to avoid bubbling over.)

Once the sugar has dissolved and the liquid is clear, take the pan off the heat and leave to cool. Put your glass (a coupette is preferred for this drink) in the fridge to chill.

Once the syrup has cooled, fill a cocktail shaker with ice. Pour over the vodka, coffee liqueur, 10ml/2 teaspoons of your sugar syrup and the hot espresso.

A 'long, hard shake' is required here to combine all ingredients. Shake vigorously for 10-15 seconds until the shaker is really cold on the outside. This will ensure a good crema on your drink.

Strain the espresso martini into the chilled glass using a hawthorne cocktail strainer and a fine mesh strainer. If you don't have a strainer, a kitchen sieve will work just as well. Garnish with the coffee beans, if you like.
Recipe Tips
Make sure the espresso is hot, as this allows for a better foam or 'crema' on your cocktail. Scale up the sugar syrup ingredients with a ratio of 2:1 if you'd like to make more. It's easier to make in larger batches and keeps for at least two weeks in the fridge. You could also try replacing the vodka with tequila for a twist.