English almond butter toffee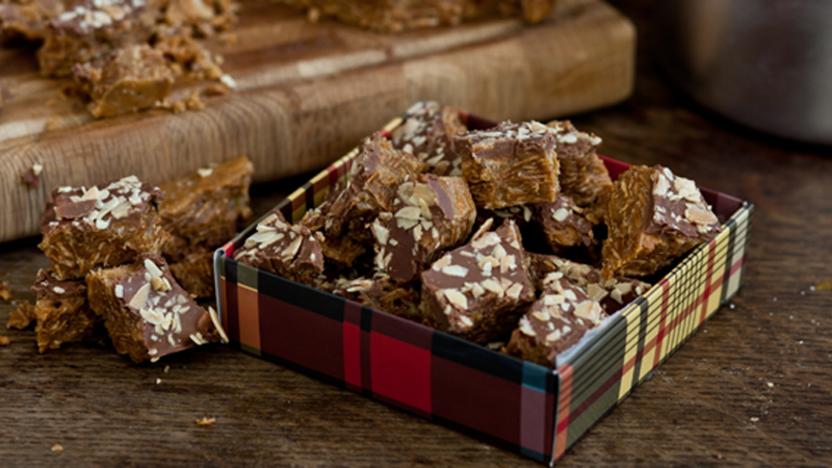 Almond butter toffee is, without question, the George Clooney of toffees.

Equipment and preparation: You will need a sugar thermometer to make this recipe safely.
Method
Preheat the oven to 180C/350F/Gas 4. Grease a baking tin 42x27cm/17x11in and 4cm/1½in deep with groundnut oil.

Place the almonds on a second, clean baking tray and toast in the oven for 15 minutes, turning them over and around after five minutes and taking care not to singe the edges. Remove from the oven once golden-brown and set aside to cool.

Place the butter in a deep, heavy-bottomed pan and melt it gently. Add the sugar and stir until it has dissolved. Place a sugar thermometer in the pan, bring the mixture to the boil and bubble on a medium heat until it reaches 120C/250F. This takes about five minutes.

Add three-quarters of the toasted almonds and the vanilla extract to the sugar and butter mixture and give it a couple of brisk stirs with a wooden spoon. Be careful as the mixture will bubble up a fair bit.

Bring the mixture back to a rolling boil and, on a moderate heat, bubble slowly and steadily, stirring frequently, for around 15 minutes until the temperature reaches 150C/302F. Take care, as it will stay for a long time at 135C/275F and then quickly go up to 150C/300F. You need to catch it when this happens or it will start to burn.

As soon as the temperature nudges 150C/300F, whip the pan off the heat and pour the golden-coloured mixture into the greased baking tin. Don't worry if it looks a little oily. Leave to cool for one hour.

Place the small pieces of chocolate evenly over the top of the still-warm toffee and leave to melt. Spread out the chocolate with a palette knife.

Roughly grind the remaining almonds in a food processor and scatter the crumbs over the melted chocolate. Leave to cool.

To remove the toffee from the tin, take a flat screwdriver or toffee hammer and break it into chunks and store in the fridge.
Recipe Tips
This toffee only takes half an hour to make, but six hours to cool and set.
This recipe is from...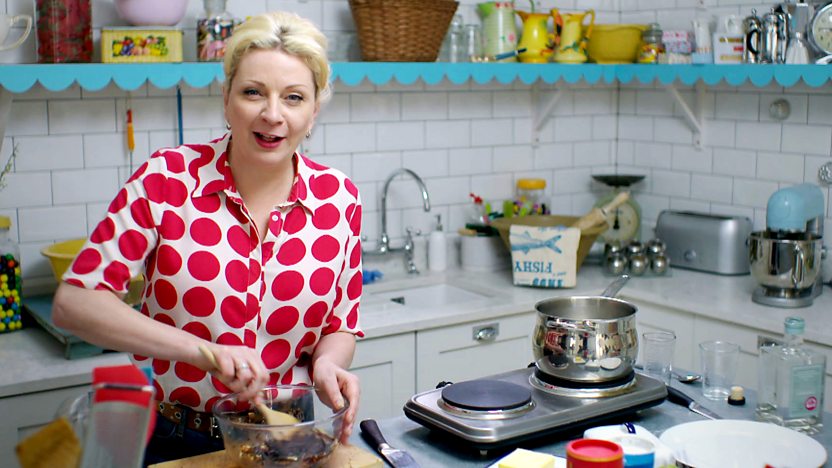 Sweets Made Simple
Episode 1
Recipes from this episode