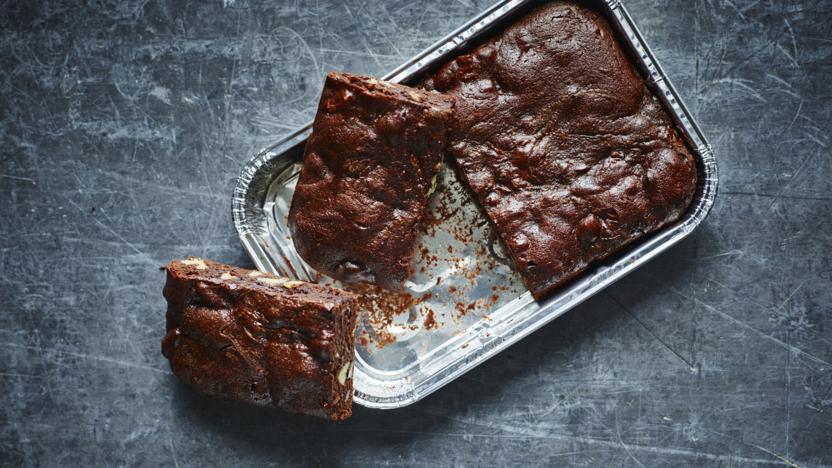 This is for those times you urgently need a brownie, but don't want to make (or, rather, can't justify making) a whole batch. This recipe makes two (four if needs be) fudgy brownies to be snaffled straight from the tin. It is worth keeping takeaway-style foil tins in the house just to make these. Take my word for it, it will be a frequent occurrence.

Equipment: You will need a 18x11x5cm/7x4x2in takeaway-style foil tin.
Method
Preheat the oven to 170C/150C Fan/Gas 3.

Warm the butter, sugar and maple syrup in a small, heavy-based saucepan, stirring occasionally until the butter has melted and the sugar has dissolved. Remove from the heat.

Mix together the flour, cocoa and salt in a bowl, then beat into the melted butter with a wooden spoon until smooth.

In a small bowl, whisk the egg with the vanilla then stir into the pan, ensuring everything is well combined. Fold in the nuts and chocolate chips. Pour and scrape the batter into the foil tin. Bake for 15–20 minutes, until it is beginning to come away at the sides and the top has dried a little just around the edges.

Transfer to a wire rack and leave to cool – but not completely. I leave them for 20–30 minutes (and that's difficult enough). If your need is not so great, or you want them to go further, cut each square in half again.
This recipe is from...
Recipes from this episode