Sweet eggy bread in custard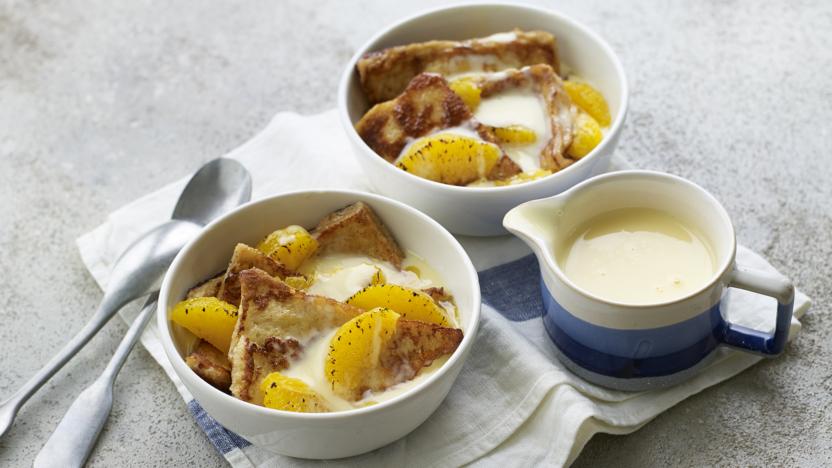 Even eggier eggy bread! Butter-honey drenched French toast served in a bowl of egg custard, topped with caramelised oranges.



Method
Place the orange on a board and using a sharp knife, carefully cut off all the peel. Segment the orange and place the pieces on a baking tray. Sprinkle with sifted icing sugar and toast with a chefs' blow torch until the sugar caramelises. Alternatively, you can heat a grill to very hot and place the orange under it until caramelised. Set aside.

Warm the custard in a medium pan over a low heat with 5 tablespoons cold water, stirring regularly.

Whisk the eggs, milk and vanilla extract together well in a bowl.

Melt half the butter with the oil in a large frying pan over a medium heat. One at a time, dip the bread triangles in the egg mixture for a few seconds. Fry for 2 minutes on each side, or until golden-brown.

Pour the custard into two warmed bowls and layer the eggy bread and caramelised orange segments on top. Add the remaining butter and the honey to the hot pan and stir until melted. Spoon the honey-butter over the eggy bread and serve.
This recipe is from...
Recipes from this episode