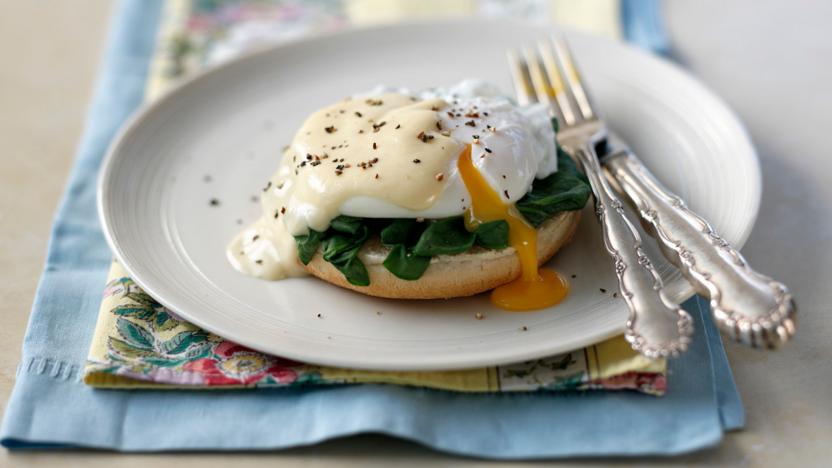 A classic eggs Florentine is perfect for an indulgent weekend brunch.

Ingredients
For the hollandaise sauce
For the eggs Florentine
Method
Preheat the grill to medium.

For the hollandaise sauce, place 75g/2½ oz of the butter into a small saucepan and melt slowly over a gentle heat. Once melted, remove from the heat and set aside.

Place the egg yolks into a bowl set over a pan of gently simmering water (take care not to let the bowl touch the water) and beat until pale and thickened. Add the water, lemon juice, salt and freshly ground black pepper to the egg yolks and beat for another 30 seconds.

Add half of the remaining butter to the egg mixture in the bowl and stir for 1-2 minutes or until the mixture thickens. Remove from the heat and beat in the rest of the butter.

Slowly pour in the melted butter, whisking constantly, until the sauce reaches the consistency of double cream. Season to taste with lemon juice, salt and freshly ground black pepper. Keep the sauce warm by resting the bowl in a pan of lukewarm water.

Place the buttered muffins onto a baking tray.

Arrange the steamed spinach on top of the muffins, top with the poached eggs and pour the hollandaise sauce over the top

Place the tray under the preheated grill for 1-2 minutes, or until the top is bubbling and just turning golden-brown.

Transfer the eggs Florentine onto two serving plates and serve immediately.