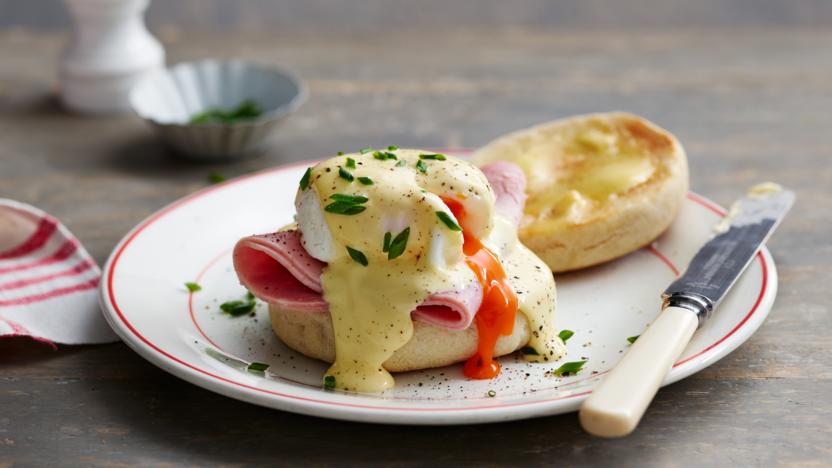 Eggs Benedict is the perfect weekend breakfast or brunch. Serve with either ham or smoked salmon.

Homemade hollandaise sauce is much easier to prepare than you may think and beats any kind of shop-bought variety. This recipe allows you to make six perfect poached eggs ready to serve at the same time. It's all in the prep!
Ingredients
For the hollandaise sauce
Method
Fill a large pan just over one third full with boiling water and the vinegar. Bring the water to a simmer. One by one, crack the eggs into a small bowl and gently tip into the simmering water. You might have to do this in 2–3 batches, depending on your skill level. Poach for 2–3 minutes. Remove with a slotted spoon and plunge into iced water to stop them cooking.

For the hollandaise sauce, melt the butter slowly in a medium pan over a low heat, stirring occasionally. Pour into a jug.

Put the vinegar, shallot, peppercorns and bay leaf into a small saucepan over a high heat and bring to the boil. Cook for 1–2 minutes, or until reduced to 2 tablespoons of liquid. Remove from the heat.

Put the egg yolks in a heatproof bowl and place over a pan of simmering water. Do not let the bottom of the bowl touch the water. Whisk the egg yolks with the salt and sugar until pale. Pour the vinegar mixture through a fine sieve over the yolks and continue whisking until well combined. Slowly add the butter in a steady stream, whisking constantly, until the sauce is smooth, thick and shiny. Keep warm until ready to serve.

Bring the pan of water back to a simmer. Using a slotted spoon, place all the cooked eggs into the simmering water and reheat for 1 minute. Remove and drain on kitchen paper.

Toast the muffin halves and spread with butter. Put a muffin half on each plate and top with ham or salmon (if making eggs royale). Place an egg on top of each muffin and spoon over some hollandaise. Sprinkle with chives and serve with the other muffin halves on the side.
Recipe Tips
Poaching in advance is easy, if you need to wait longer between poaching the eggs and serving the food, leave the eggs in a bowl of iced water, ready to pop back into a pan of simmering water to warm up for 1 minutes just before plating up.
This recipe is from...
Recipes from this episode