Eggless pasta with two sauces
This simple pasta dough recipe is perfect for when you can't get hold of any eggs but want a filling dinner.

Ingredients
For the eggless pasta
350g/12oz semolina or '00' flour, plus extra for dusting
½ tsp salt
For the tomato sauce
1 tbsp olive oil
1 onion, chopped
2 garlic cloves, chopped
1–2 tsp red wine vinegar (or any vinegar such as balsamic, white wine or sherry vinegar)
400g tin chopped tomatoes (chopped or whole plum tomatoes, or fresh)
1 tbsp fresh herbs such as rosemary, thyme, basil or oregano, plus extra to garnish
salt and freshly ground black pepper
For the cacio e pepe sauce
Method
To make the eggless pasta, place the flour and salt in a large bowl and mix to combine. Gradually add 175ml/6fl oz water and bring to a dough using either your hands or a blunt knife. Knead the dough on a lightly floured surface until it is smooth, soft and flexible. Leave to rest in the bowl, covered in cling film, for at least 1 hour.

Roll the pasta out using a rolling pin or a pasta machine as thinly as possible. Cut the pasta into any shapes you like and set aside.

To make the tomato sauce, heat the oil in a frying pan. Add the onion and garlic and fry over a low heat for 2–3 minutes. Add the vinegar and cook for 1 minute. Add the tomatoes and herbs and season with salt and pepper. Cook the sauce for 8–10 minutes.

Bring a large saucepan of salted water to the boil. Add the pasta and cook until al dente. Reserve some of the cooking water.

To make the cacio e pepe sauce, place the butter, pepper and a splash of the pasta water in a saucepan. Cook until the sauce has emulsified. Add half of the pasta to the saucepan. Add the Parmesan and lemon juice, if using. Do not stir at this point, just allow the cheese to melt.

Add the tomato sauce to the remaining pasta, stir and serve alongside the pici pasta. Garnish with more fresh herbs and season with more salt and pepper.
This recipe is from...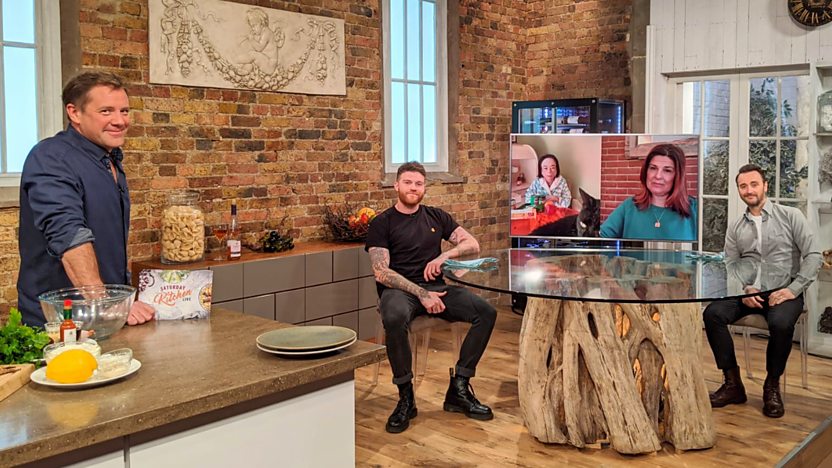 Saturday Kitchen
28/03/2020
Recipes from this episode