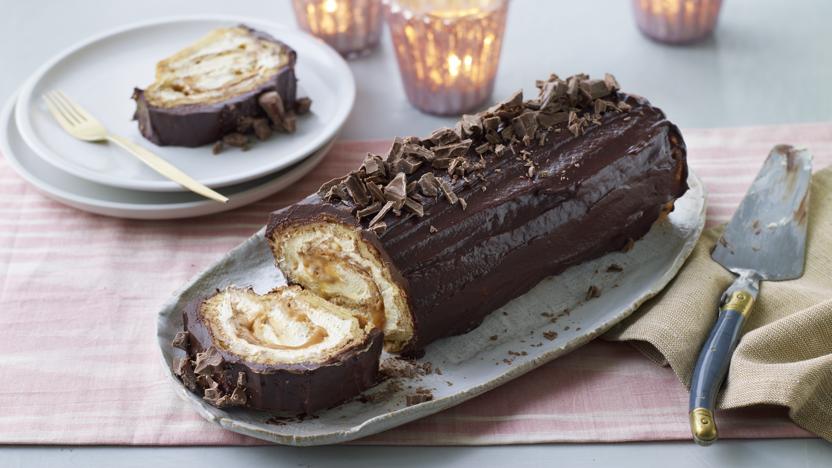 This recipe offers all the great elements of an éclair – pastry, cream and chocolate – but with a little less work and time involved.


Ingredients
For the choux pastry
For the filling
For the ganache
Method
Preheat the oven to 200C/180C Fan/Gas 6. Lightly grease a baking tray and line it with baking paper.

Put the water, butter, sugar and salt into a pan. Put it on a medium–high heat and just barely bring to the boil. The sugar and butter need to dissolve.

Once the butter and sugar have dissolved, turn the heat down and drop the flour in quickly in one go. Stir straight away and make sure to keep going, to avoid any lumps. The mixture should look smooth and be coming away from the sides of the pan as you mix it.

Take off the heat and start adding the eggs a little at a time, making sure to mix after each addition. The mixture will look like it is separating as soon as you add each egg, but keep mixing and it will come together as one. Keep doing this until all the eggs have been added. The dough should be smooth.

Pour the mixture into the centre of the prepared tray. Using an offset spatula or the back of a spoon, spread the mixture to a rectangle shape, roughly 20cm x 30cm/8in x 12in. Wet your fingers and pat down any peaks that may have formed, then pop it into the oven for 30 minutes.

Meanwhile have a clean tea towel ready for when you take out the pastry. Take the éclair roll out of the oven and turn it out on to the tea towel. Roll up the pastry from the shorter end, using the tea towel to help – being sure to roll up the tea towel inside the pastry too. Leave for 20 minutes to cool.

Make the filling by whipping the cream with the icing sugar and vanilla bean paste in a bowl until soft peaks form when the whisk is removed from the bowl. Set aside.

To make the ganache, chop the dark chocolate and put it into a bowl. Warm the cream in a small pan, being careful not to let it boil. As soon as it just begins to come up to the boil, take it off the heat and pour it onto the chocolate. Mix until the chocolate has melted completely.

Unroll the pastry, spread the cream all over and drizzle over the salted caramel. Re-roll the pastry, starting from the shorter end as before (this time don't wrap up the tea towel – tea towels are not tasty!).

Put the roll on a serving plate, spread the ganache on top and sprinkle over the chopped chocolate. Serve in slices.
Recipe Tips
Store the éclair roll in the fridge when you are not eating it – if it makes it to the fridge at all, that is!