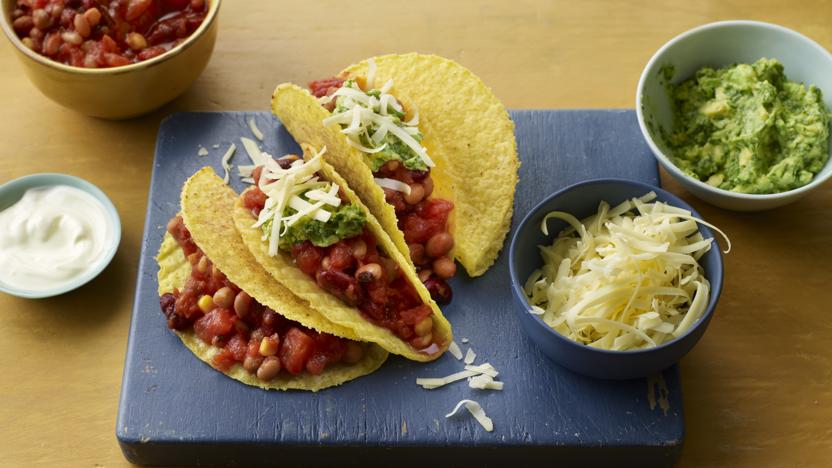 Vegetarian tacos are fun and easy to make. Everyone can help themselves to the crunchy corn tacos, spicy bean filling, creamy avocado, soured cream and grated cheese.

If you're making this recipe with children, see the tips section for advice on kitchen safety.
Method
Preheat to oven to 200C/180C Fan/Gas 6.

Tip the beans, peas, tomatoes, oregano, chilli flakes and tomato purée into a roasting tin and toss together. Bake for 15 minutes. For the last few minutes of cooking, put the tacos on a baking tray and warm in the oven.

Meanwhile, mash together the avocado, lemon juice and coriander.

Carefully tip the beans into a serving bowl. Put the tacos, beans, avocado, cheese and soured cream in separate bowls on the table so everyone can help themselves.
Recipe Tips
If making with children, here are some tips to help them cook safely:
Always supervise small children when using the cheese grater and oven.
Make sure children always wear thick oven gloves when transferring food to and from the oven. It may be best for an adult to do this step.
To grate cheese, hold the handle of the grater with one hand and then push the block of cheese downwards over the grater 'teeth'. Always keep your fingers away from the grater 'teeth', as they are very sharp. Children should always be supervised while grating.
You can buy tins that have ring pulls, and can be opened without a tin opener, which may be easier for children. The lid of a tin is very sharp, so watch those fingers!