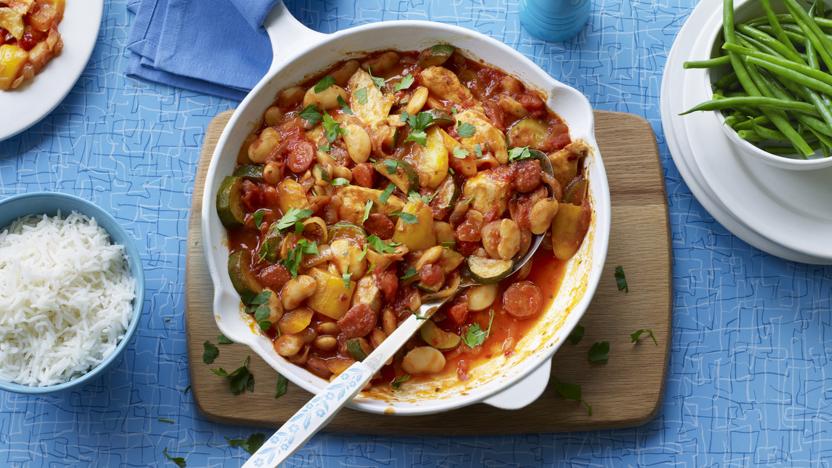 This satisfying and tasty meal is also surprisingly healthy and is suitable as a dinner for anyone following a diet of 1200–1500 calories a day.

With a GI of 58 this meal is high protein, low GI. Each serving (without rice) provides 352 kcal, 13g protein, 18.5g carbohydrates (of which 10.5g sugars), 13g fat (of which 4g saturates), 9g fibre and 1.7g salt. With a GI of 58 this meal is high protein, low GI.
Method
Heat the oil in a large, non-stick frying pan or sauté pan. Add the chicken and season with the pepper. Fry for 2 minutes, stirring regularly.

Transfer the chicken to a plate using a slotted spoon or spatula and add the onion, pepper, courgette and chorizo to the pan. Fry over a medium–high heat for 3 minutes, stirring regularly.

Add the wine, tomatoes, butterbeans, tomato purée, oregano, chilli flakes and chicken stock cube to the pan. Refill the tomato tin with cold water, pour into the tomato mixture and stir. Season with a little salt and pepper.

Bring the sauce to the boil, return the chicken to the pan and simmer for 8–10 minutes, or until the chicken is tender and cooked through and the sauce has thickened.

Meanwhile, half-fill a large saucepan with water and bring to the boil. Add the rice and simmer for 10–12 minutes, or until cooked.

Place the green beans, if using, in a small saucepan of boiling water and cook for 5–6 minutes, or until tender. Drain the beans and the rice and set aside.

Garnish with the parsley and serve immediately with the green beans and rice alongside.