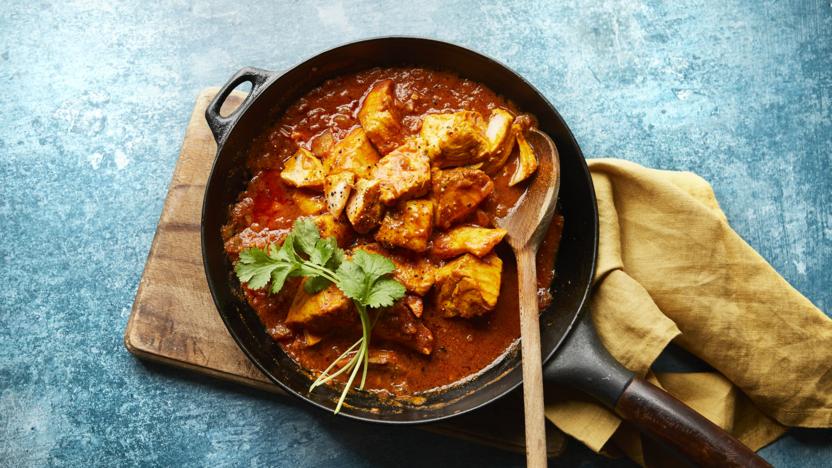 A simple, delicious fish curry recipe from the Parsi community in Bombay. Although the original recipe has loads more ingredients, this quick version is perfect for a midweek supper. The balance of flavours with spices, tomato, vinegar and chilli make it a winner. Salmon is great, but you can also use any firm white fish.

Each serving provides 307 kcal, 26.5g protein, 5g carbohydrates (of which 5g sugars), 20g fat (of which 3.5g saturates), 2g fibre and 0.8g salt.
Method
In a mixing bowl, combine the salmon, turmeric and lime juice. Mix well and set aside while you make the patia.

Heat the oil in a heavy-bottomed saucepan over a medium heat. Add the onions and fry for 7–8 minutes, or until soft. Stir in the garlic paste and cook for a minute. Add the tomato purée and cook for 2 minutes, stirring all the time. Pour in 150ml/¼ pint water and stir well. Cook for a minute then stir in the chilli and ground coriander. Add the marinated salmon, season with salt and stir gently.

Cover and cook over a low heat for 6–7 minutes, until the fish is nearly cooked through. Add the sugar and vinegar and simmer for 2 minutes, or until completely cooked. Garnish with coriander and serve with dal, rice or chapattis.