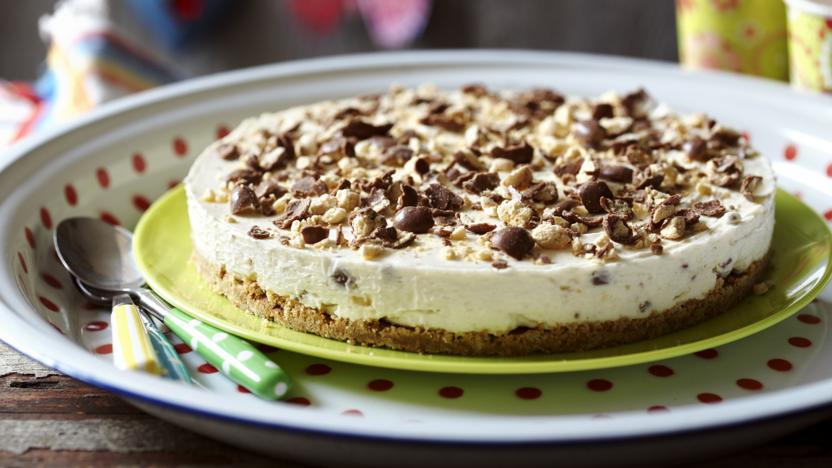 When you just don't have the energy to mess about with baking, an easy cheesecake is a make-ahead wonder. You can swap in all kinds of toppings for this cheesecake - fresh berries, a shop-bought fruit compote, or other chopped up chocolate bars.
Method
Place the digestive biscuits into a sealable freezer bag. Push all the air out and seal the bag. Crush the biscuits with a rolling pin, being careful not to break any holes in the bag.

Melt the butter in a large saucepan. Tip the biscuit crumbs into the butter and mix well until thoroughly combined. Press the buttery crumbs into the bottom of a 23cm/9in springform or loose-bottomed tin. Chill in the refrigerator while you make the topping.

Combine the cream cheese and mascarpone in a large mixing bowl. Using an electric handheld mixer, blend the cheeses together until light and fluffy. Add the icing sugar a little at a time and blend to incorporate. Finally, mix in the vanilla. The mixture should be very light and fluffy.

Place the malted milk balls in the sealable freezer bag and close. Knock the malted milk balls with a rolling pin to just break them apart. Fold half of the crushed malted milk balls into the cream cheese mixture until thoroughly combined.

Spread the cream cheese mixture over the biscuit base and smooth the top with a palette knife or spatula. Cover with cling film and chill in the fridge for at least four hours.

When ready to serve, sprinkle the remaining crushed malted milk balls over the top of the cheesecake. Release the catch of the springform tin carefully, then slice and serve.
Recipe Tips
Make this cheesecake up to 3 days in advance and keep tightly covered in the fridge.