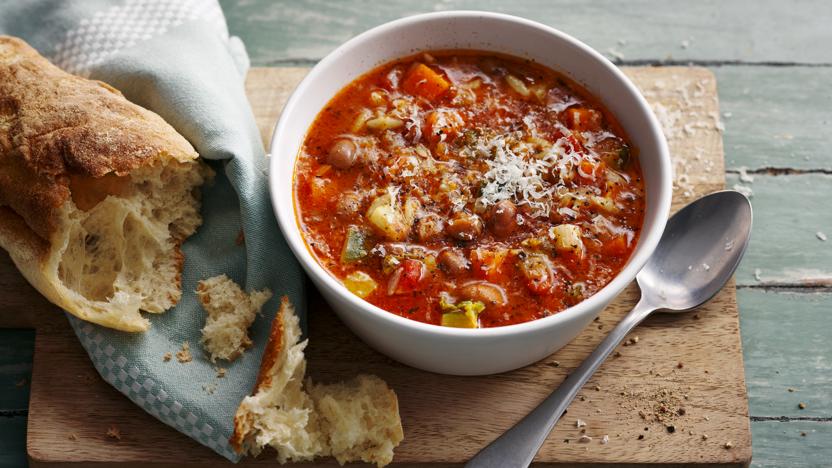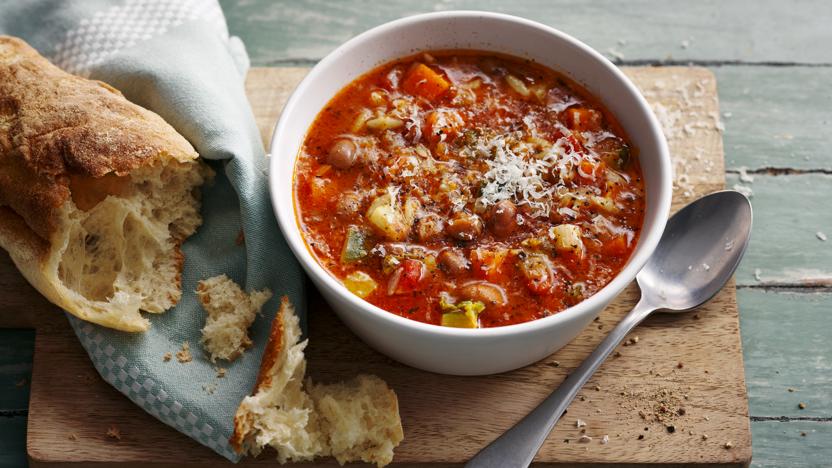 A great way to use up all those odds and ends from the fridge. Raw root vegetables, leafy veg, cooked leftover vegetables, pasta and rice can all be thrown into the pan. Just make sure they are added in the right order, so raw vegetables that need a bit of cooking go in first, then green vegetables and finally cooked ingredients. Top the cooked soup with any cheese you have handy or spoonfuls of pesto.


Method
Pour the oil into a large non-stick saucepan or flameproof casserole. Add the onion and celery, if using, and fry gently for 5 minutes, or until softened and lightly browned, stirring often.

Add the chopped tomatoes and refill the tomatoes tin twice with cold water and pour into the pan. Add the chicken or vegetable stock cube. Add the dried mixed herbs or oregano (along with the parmesan rind if using). Add any hard, raw vegetable pieces, such as carrot, parsnip, squash or potato and bring to a simmer. Cook for 5 minutes, stirring occasionally.

When the harder vegetables have softened, add the raw green vegetables, such as small broccoli florets, shredded kale or cabbage, green beans and courgette. Simmer for 3 minutes more, stirring occasionally.

Add any cooked vegetables or beans you are adding with the cooked pasta or rice. Simmer for 3 minutes, stirring occasionally. Season with salt and lots of freshly ground black pepper. Ladle into deep bowls and serve topped with grated cheese.