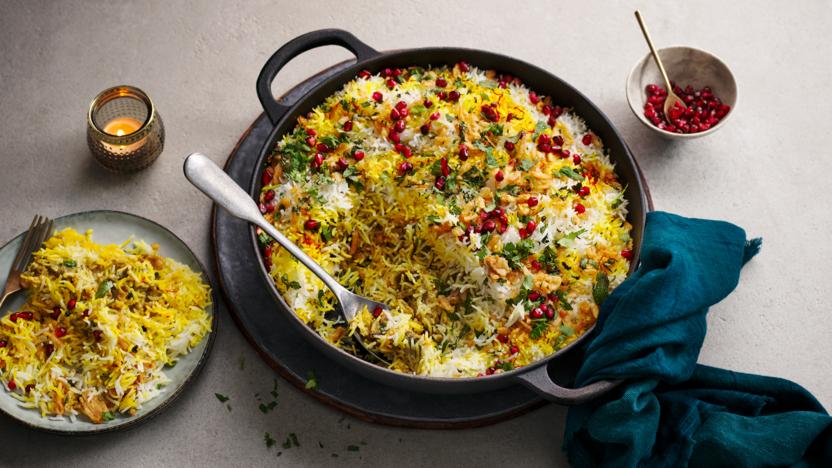 This lamb biryani is real centrepiece dish, but it's actually easy as anything to make. Serve garnished with pomegranate seeds to make it look really special.


Method
Heat the oil in a non-stick frying pan over a medium heat. Add the onions and stir-fry for 15–18 minutes, or until lightly browned and crispy.

Put half the onions in a non-metallic mixing bowl with the yoghurt, ginger, garlic, chilli powder, cumin, cardamom, half of the salt, the lime juice, half of the chopped coriander and mint and the green chillies. Stir well to combine. Set aside the remaining coriander and mint for layering the biryani.

Add the lamb to the mixture and stir to coat evenly. Cover and marinade in the fridge for 6–8 hours, or overnight if possible.

Preheat the oven to 240C/Fan 220C/Gas 9.

Heat the cream and milk in a small saucepan, add the saffron, remove from the heat and leave to infuse for 30 minutes.

Cook the rice in a large saucepan in plenty of boiling water with the remaining salt for 6–8 minutes, or until it is just cooked, but still has a bite. Drain the rice.

Spread half of the lamb mixture evenly in a wide, heavy-based casserole and cover with a layer of half the rice. Sprinkle over half of the reserved onions and half of the reserved coriander and mint. Sprinkle over half of the saffron mixture. Repeat with the remaining lamb, rice, onions, herbs and saffron mixture.

Cover with a tight fitting lid, turn down the oven to 200C/Fan 180C/Gas 6 and cook for 1 hour. Remove and allow to stand for 15–20 minutes before serving. Garnish with pomegranate seeds if desired.
Recipe Tips
Kashmiri red chilli powder is quite mild with a slightly smokey flavour that really adds to the dish.