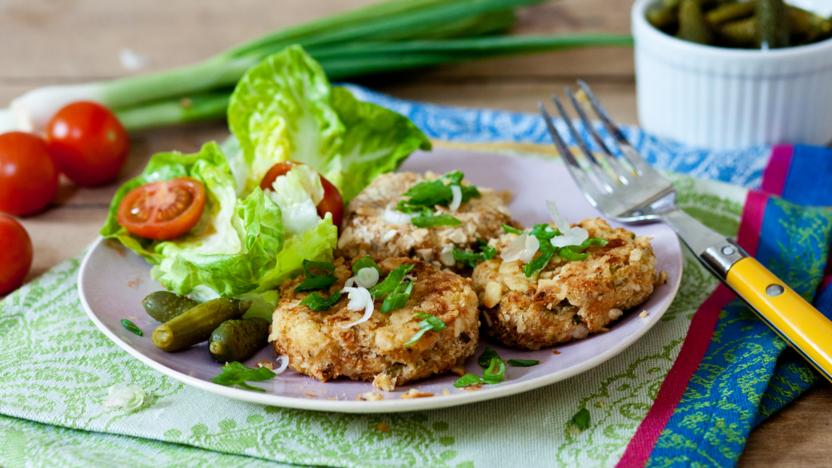 You can make these easy fish cakes from any pre-cooked fish - tinned salmon or tuna or smoked mackerel. You could also bake a salmon or haddock fillet in the oven from fresh or frozen.
Ingredients
Optional extras
Method
Adult's job: Preheat the oven to 220C/425F/Gas 7.

Kid's job: Wash the potatoes and then an adult can boil the potatoes whole with their skins on. After 20-30 minutes the potatoes should feel soft when an adult pushes a small knife in - if not, cook them for a few minutes more and then rinse them and leave to cool.

Kid's job: Once the potatoes have cooled, kids can then peel the skin off the potatoes with their fingers and squash the flesh into a bowl. Mash the potato using a masher, fork or clean fingers.

Kid's job: Add the fish and mix well. Add the lemon, a little pepper and any of the optional extras you like. Have a taste - you can add more pepper or lemon, if you like. All of the ingredients are cooked at this point so it is safe to taste!

Kid's job: Place the crackers in a sandwich bag and wrap it in a clean tea towel or layers of kitchen paper. Crush the crackers using a rolling pin - it is safer to roll over the crackers rather than bashing! Pour the cracker crumbs onto a plate. Have a bowl ready with some water for dipping hands in.

Kid's job: Get your hands a little bit wet and roll small balls of the fishcake mixture. Don't worry too much about making perfect balls - you can flatten them into patties. Get the outside of the fishcakes damp again and push them into the bowl of crushed crackers - you want a light coating of crumbs all over the fishcakes.

Kid's job: Pour the oil over the bottom of a baking tray and place the fishcakes on top. Turn them all over once so that they have a little oil on each side. An adult can place the baking tray into the preheated oven.

Adult's job: Bake the fishcakes for 10 minutes on one side and then turn the fishcakes over before placing them back in the oven for another 10 minutes or until the fishcakes are golden-brown. Carefully remove from the oven and leave to cool slightly before serving.
Recipe Tips
You can freeze the fishcakes uncooked and then cook them from frozen-freeze them in a plastic tub on layers of greaseproof paper.
You could use a couple of fillets of frozen or fresh fish. Wrap the fillets in foil and cook fresh fish for 15 minutes (or from frozen for 20-25 minutes) at 220C/425F/Gas 7. Add a slice of lemon or herbs such as rosemary, parsley or dill and a pinch of pepper before wrapping. It is always good to check for bones - kids often like doing this.