Chicken and chorizo jambalaya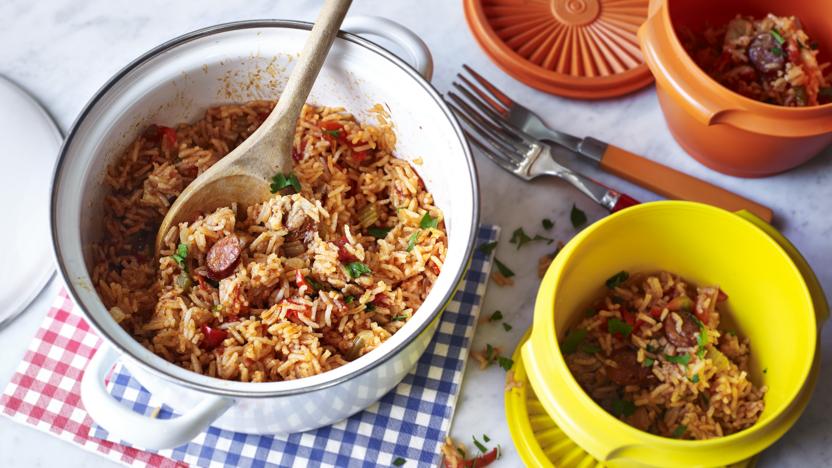 A delicious jumble of smoky sausage, chicken, tomato and rice. This chicken jambalaya also makes a great lunch the next day.
Ingredients
1 tbsp olive oil
2 chicken thighs, boneless, skin removed, cut into 2½cm/1in pieces
75g/2½oz chorizo or smoked sausage such as kobanos, sliced
1 small onion, finely chopped
1 celery stick, finely chopped
1 garlic clove, finely chopped
1 red pepper, thinly sliced
200g tin chopped tomatoes
½ tsp cayenne pepper, or to taste
150g/5½oz basmati rice
200ml/7fl oz chicken stock (made from ½ stock cube)
salt and freshly ground black pepper
handful fresh parsley, finely chopped, optional
Method
Heat the oil in a medium saucepan with a tight-fitting lid and fry the chicken and sausage for 3 minutes.

Add the onion and celery, season well and fry for 5 minutes, or until softened. Add the garlic and pepper and cook for a further minute. Add the tomatoes and cayenne and cook for 2 minutes, then add the rice and stir well.

Pour over the stock, bring to the boil, put the lid on, turn the heat down as low as it will go and cook for 12 minutes.

Turn off the heat and leave the rice to stand for 12 minutes. Take off the lid, fluff up the rice and serve immediately, garnished with the parsley, if using.
Recipe Tips
To store rice safely, you need to cool the dish and refrigerate it as quickly as possible. Avoid leaving rice at room temperature. When you reheat rice, always check that it's steaming hot all the way through. Only keep rice for one day and only reheat it once.