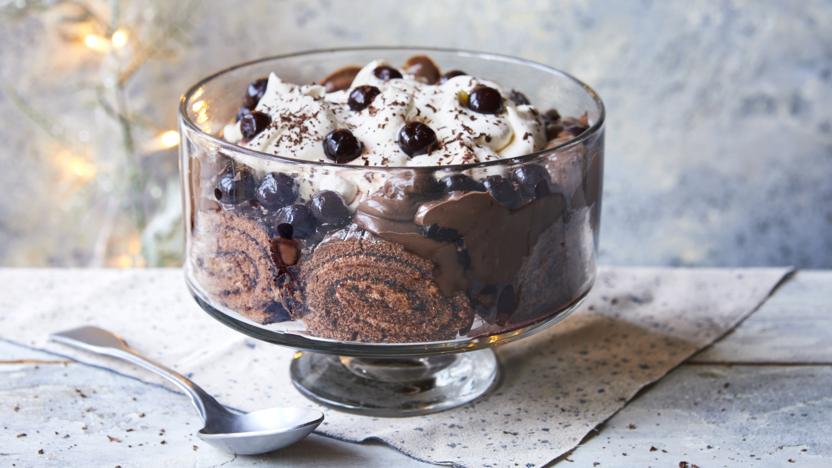 Shop bought ingredients are used to great effect in this easy chocolate trifle. Great for Christmas, where it makes a stunning centrepiece for any festive table, but it also works well as a make-ahead dessert at any time of year.
Ingredients
100g/3½oz plain dark chocolate (around 70 percent cocoa solids), broken into squares
500g/1lb 2oz pot chilled ready-made custard
1 good-quality chocolate Swiss roll (around 225g/9oz), cut into roughly 1.5cm/⅝in slices
3 tbsp cherry brandy, brandy or kirsch (optional)
425g/15oz tin cherries in light syrup
300ml/10fl oz double cream
Method
Reserve one square of the chocolate for decoration and put the rest in a medium heatproof bowl and either melt in a microwave on HIGH for about 1–1½ minutes, or place over a saucepan of gently simmering water. Once almost melted, remove from the heat and stir until smooth.

Add the custard to the melted chocolate and stir well. Transfer to a saucepan and heat very gently, for just 20–30 seconds, stirring constantly until the custard is smooth and glossy. Don't allow to get too warm.

Arrange the sliced Swiss roll around the base and sides of a medium trifle dish. Drizzle with the cherry brandy, brandy or kirsch if using.

Drain the cherries, reserving the syrup. (If the cherries contain stones, you may wish to stone the cherries at this point, especially if serving children – you can do this by poking with a skewer, halving the cherries and removing the stones, or using a cherry stoner. Otherwise, leave the stones in place and warn people before they begin to eat.)

Drizzle the sponge with 5–6 tbsp of the cherry syrup, until lightly soaked. Reserve 6 of the cherries for decoration and scatter the rest over the sponge. Pour the chocolate custard on top. Cover and chill for 2–3 hours, or overnight, until the custard is softly set.

Whip the cream in a bowl using an electric whisk, or by hand, until just thick enough to form soft peaks when the whisk is removed from the bowl. Spoon gently on top of the custard. Finely grate the reserved chocolate on top. Decorate with the remaining cherries and serve.
Recipe Tips
If you can't get hold of a chocolate Swiss roll, use chocolate brownies or any other chocolate cake instead. Plain trifle sponges will also work but the trifle won't be quite as decadent.
Most tinned cherries already have the stones removed (also known as pitted cherries), but do check the label and refer to step 4 for instructions on how to remove any stones.