Easy chicken and pea risotto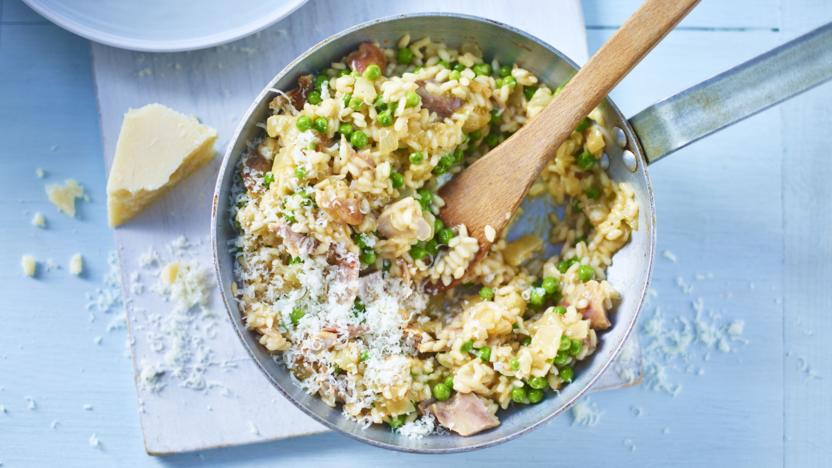 This cheap and cheerful chicken risotto is quick and easy because all the stock goes in at once. It's also brilliant for using up leftovers.
Method
Heat the oil in a large, non-stick saucepan over a medium heat. Add the onion and garlic and fry for 2-3 minutes, stirring occasionally, until softened and just beginning to colour.

Add the risotto rice to the pan and stir well for 30-40 seconds, until the oil has coated the grains of rice.

Pour in half of the wine and allow to bubble for 30-40 seconds, then add all of the stock and bring to the boil, stirring well. Reduce the heat and simmer, uncovered, for 8-10 minutes, stirring frequently, until the rice is almost tender and the risotto is creamy in appearance.

Stir in the remaining wine, the chicken and the frozen peas, then continue to cook, stirring constantly, for a further 4-5 minutes, or until the chicken and peas are heated through and the rice is tender with a slight bite.

Remove the pan from the heat, then stir in the butter and cheese. Season with black pepper. Cover the pan with a lid and set aside for 5 minutes before serving.
Recipe Tips
Tip 1: Grana Padano cheese is similar in taste and style to Parmesan but it costs less, perfect for those on a budget.
Tip 2: Adding half of the wine towards the end of the cooking time adds to the flavour of the finished dish.
Tip 3: Even though all of the stock is added at once, it is still important to stir the risotto regularly as it cooks to achieve a creamy texture.