Spiced pork loin with black pudding sauce, asparagus, and spiced January King cabbage
This pork is marinated for three days for a wonderful spiced flavor, then cooked quickly in a pressure cooker.

Ingredients
For the spiced pork loin
For the spicy cabbage
Method
For the pork loin, mix together the salt, orange zest, juniper, cinnamon, Jamaican allspice and a pinch of sugar. Rub this all over the pork loin. Wrap tightly in clingfilm and leave to marinate in the fridge for three days.

For the spicy cabbage, when you are ready to cook, mix the 30g/1oz of salt with the sliced cabbage and set aside for 30 minutes.

Meanwhile, put the pork in a pressure cooker with the diced parsnip and stock and cook for 25 minutes.

Remove the pork from the cooker. Allow it to rest for five minutes then sprinkle with icing sugar and glaze with a blow torch.

To make the sauce, pour off the excess cooking juices from the pork into a small pan, add a little more stock and bring to the boil, thicken lightly with fecule (potato starch) and pass through a fine sieve. Add the diced black pudding. Reserve.

Remove the parsnips and crush with a fork, add a knob of butter and a few drops of cream. Mix in the parsley and reserve.

Cook the asparagus spears in boiling water with a pinch of salt and sugar added.

To cook the spicy cabbage, wash the cabbage thoroughly and dry well.

In a heavy-bottomed pan, gently fry the bacon, add the roast garlic then the cabbage, rice vinegar and cumin. Mix well and season to taste with salt.

Stir well and cook for two minutes, or until the cabbage is tender. Check the seasoning again and reserve.

To serve, place the spicy cabbage in the center of the plate. Carve the pork into two slices per portion and place on top. Place the crushed parsnip to the right and garnish with asparagus. Spoon on the gravy and black pudding. Garnish with the pork rind and serve.
This recipe is from...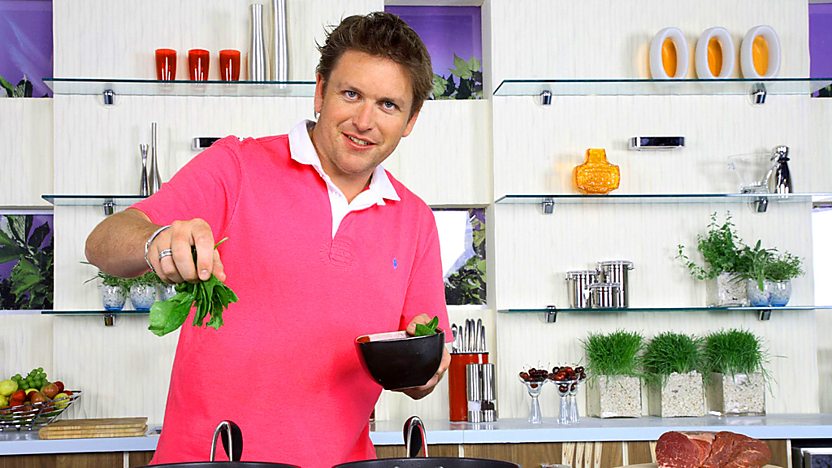 2007-16
226. 27/03/2016
Recipes from this episode