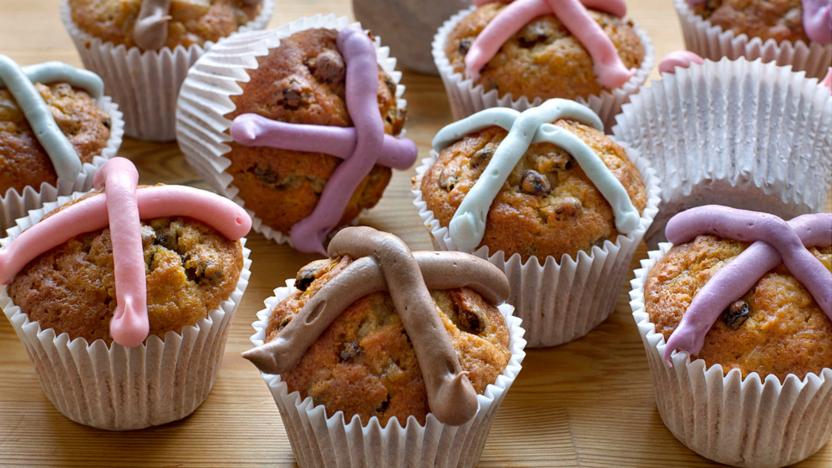 Quicker and easier to make than traditional yeast buns, Dan Lepard's Easter cupcakes have a rich ginger and spice flavour.
Ingredients
For the sugar syrup
Method
Line the holes of a muffin tin with muffin cases or paper wraps, and preheat the oven to 180C/160C Fan/Gas 4.

Melt the butter with the spices in a small saucepan over a low heat, then pour this into a mixing bowl with the sugar and oil and stir well. Beat in the eggs until smooth. Peel the apples and grate them, discarding the core, and stir the apples into the other ingredients. Stir in the crystallised ginger, currants and mixed fruit. Stir in the flour and baking powder evenly.

Three-quarter fill each muffin paper with spoonfuls of the mixture and bake for about 25 minutes, or until a skewer poked in comes out almost clean.

Make the syrup by boiling the sugar with 25ml/1fl oz water in a small saucepan until dissolved, then leave the liquid to cool. Brush it over the warm cupcakes.

When cold, pipe crosses on the cupcakes with the cream cheese frosting before serving.
Recipe Tips
You will need half a batch of the cream cheese frosting used in Dan Lepard's carrot spelt cupcake recipe.