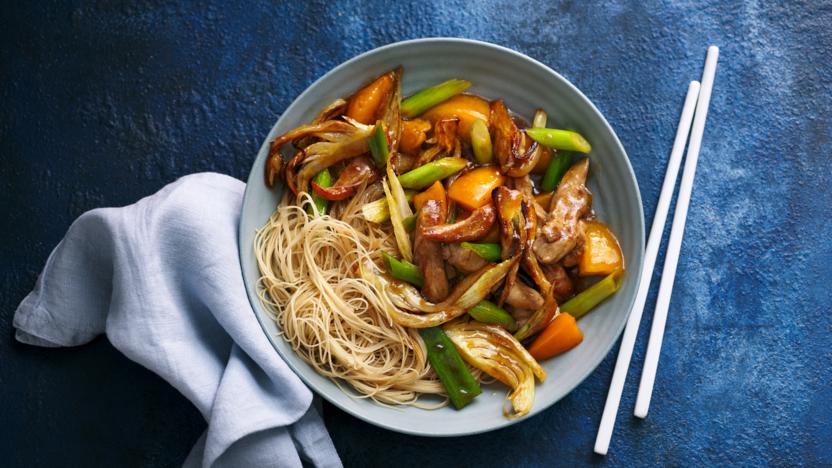 This quick duck stir fry is based on 5 ingredients and takes just 6 minutes to cook. Duck goes brilliantly with the subtle aniseed flavour of fennel and the sweetness of fruit. Serve with rice or noodles, or just as it is.

Each serving provides 310 kcal, 31g protein, 10g carbohydrates (of which 10g sugars), 15.5g fat (of which 3.5g saturates), 3g fibre and 2.5g salt.
Method
Cut the duck breast crossways into 1cm/½in strips. Cut the fennel into 1cm/½in thick slices and cut these into long strips about 1cm/½in wide and 3cm/1¼in long. Cut both the green and white parts of the spring onions into 3cm/1¼in lengths. Cut the peach or pineapple pieces into large chunks.

Heat the oil in a wok or large frying pan. Add the fennel and cook over a high heat, stirring constantly, for 2 minutes, or until starting to soften.

Add the duck and the white parts of the spring onions and stir-fry for 2 minutes.

Add the green parts of the spring onions, the soy or hoisin sauce, the fruit, fruit juice and 50ml/2fl oz water and cook, stirring occasionally, for another 2 minutes, or until the duck is cooked. If you want to thicken the sauce, remove the duck, vegetables and fruit with a slotted spoon and let the liquid boil to reduce.

Garnish with chopped chives or coriander and serve with the rice or noodles.